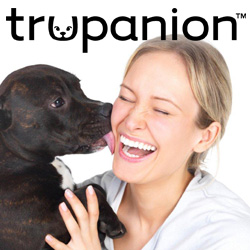 We are more than just an insurance company – we truly care about the health, happiness and safety of pets.
Seattle, WA (PRWEB) July 17, 2012
Trupanion, the second-largest and fastest growing pet insurance provider(1), today announced an expansion into Vermont and Maine effective immediately. Pet owners living in these two states can now enroll their cats and dogs online at Trupanion.com or by phone at 800.569.7913.
Trupanion has been working to become licensed in all 50 states since expanding into the United States from Canada in 2008. Trupanion is now actively licensed in 48 states, the District of Columbia, all Canadian provinces, and Puerto Rico.
"Pet owners want to be able to give their pet the best treatment available, but sometimes the cost of that treatment is outside a family's budget," said Darryl Rawlings, chief executive officer at Trupanion. "Pet insurance helps with this cost and puts those treatment options back on the table for pet owners."
Trupanion differentiates itself from other pet insurance companies in the industry by operating under a core set of values that places the health of the pet first. Trupanion offers lifetime coverage for dogs and cats with a 90 percent reimbursement rate and no payout limits per claim, per year, or over the lifetime of the pet. Trupanion's policy is easy to understand and simple to utilize at the time of care.
Trupanion's website also offers a wealth of information, including a new pet fire safety section. Pet owners and pet-friendly employers can learn more about protecting their pets during a fire and watch a video of Trupanion's fire evacuation planning at Trupanion.com/pet-fire-safety.
"We are more than just an insurance company – we truly care about the health, happiness and safety of pets," said Rawlings. "As we expand into new states, we are able to meet the needs of even more pets and their owners and that is a great feeling."
(1)Based on a competitive analysis of Trupanion's gross written premium compared with the net premium reported by other industry providers, as well as Google Insights for Search.
About Trupanion™
Trupanion™ is an industry leader in pet insurance, offering cat and dog insurance in the United States, Canada and Puerto Rico with the mission of delivering financial peace of mind to pet owners. Trupanion offers a simple, customizable pet insurance policy with 90% coverage for diagnostic tests, surgeries, medications, hospital stays, and alternative therapies for the treatment of accidents or illnesses. Trupanion's policy includes coverage of hereditary and congenital conditions with no payout limits per incident, per year, or over the lifetime of the pet.
Trupanion™ is self-underwritten by the American Pet Insurance Company, which has earned a Financial Stability Rating of A, Exceptional, from Demotech, Inc. and is a founding member of the North American Pet Health Insurance Association (NAPHIA), demonstrating our commitment to high standards and transparency in all of our actions and products. For more information call 800-569-7913 or visit Trupanion.com. You can also follow Trupanion on Twitter or Facebook.