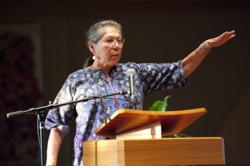 Peter Lengkeek is a member of the Crow Creek Tribal Council. He is outraged by the mass of children that have been removed from his reservation. His Tribal Council recently threatened to sue the DSS for kidnapping if the seizure of children does not stop.
Santa Cruz, CA (PRWEB) July 18, 2012
In National Geographic's "In The Shadow of Wounded Knee," Alex White Plume speaks in the present, as if the 1890 massacre at Wounded Knee is happening now. Indeed while there is no genocide against the Lakota occurring today, the onslaught on Lakota culture in South Dakota is in full swing. According to Lakota People's Law Project (LPLP) Chief Counsel Daniel Sheehan, the removal of Lakota children by the Department of Social Services has become an epidemic since 2000. The Indian Child Welfare Act (ICWA) requires that Lakota foster children stay with their extended families and tribes whenever possible, but a 2005 federal audit shows that South Dakota is among the worst violators of ICWA, with 95% of Native children being placed in non-Native care.
According to Laura Sullivan's October 2011, Peabody Award-winning investigative series "Native Foster Care: Lost Children, Shattered Families," the South Dakota Department of Social Services (DSS) removes as many as 700 Native children every year from their homes. Sullivan explains that the state currently receives nearly $100 million dollars per year in federal revenue for foster care services—which South Dakota officials treat as a stimulus to their state's weak economy.
Olowan Thunder Hawk Martinez, whose story of personal resilience and triumph is the centerpiece of "In The Shadow of Wounded Knee," is the niece of Madonna Thunder Hawk, a renowned Lakota activist and founding member of the American Indian Movement (AIM). On July 5th, Madonna Thunder Hawk, who is also the Tribal Liaison for the Lakota People's Law Project, spoke at a community festival and fundraiser in Aptos, CA for the Lakota Child Rescue Project,. Thunder Hawk's account detailed how Lakota children are predominantly placed in white foster care homes or institutions. According to Thunder Hawk, Native American children under the age of 2 are especially in demand in the adoption market since they will never remember their families or culture.
According to Lakota People's Law Project consulting anthropologist Randolfo R. Pozos, Ph.D., "'In The Shadow of Wounded Knee' breaks new ground. Alexandra Fuller avoids the common story of the conquest and oppression of the Lakota in favor of a much more detailed story of humans stubbornly refusing to be victims." Pozos also observes "The ability of Alex White Plume and Olowan Thunder Hawk Martinez to tell their stories honestly, without rancor or self-pity, is not only a testament to their personal resilience, but it is a description of a people refusing cultural oblivion."
The Lakota People's Law Project commends Alexandra Fuller and National Geographic for illuminating a portrait not often seen of the Lakota in the 21st century. The article illustrates resilience in the face of over a hundred years of hardships. Lakota People's Law Project Executive Director Sara Nelson states, "This is a moving piece of journalism that demonstrates the great importance of protecting Lakota children, who are the future of Native Americans in South Dakota."
In partnership with Lakota leaders, the Lakota People's Law Project is confronting South Dakota's systematic violation of the Indian Children Welfare Act, as descried by NPR. LPLP has launched a campaign to petition the Bureau of Indian Affairs to host a summit on foster care in South Dakota. In a letter to the Department of Interior last October, two Democratic congressmen—Ed Markey of the House Natural Resources Committee and Dan Boren of the House Subcommittee on Indian and Alaska Native Affairs—demanded action by the BIA, but nothing has been done yet. LPLP is circulating the petition online. To learn more about their effort, visit this web page.
The Lakota People's Law Project is sponsored by the non-profit Romero Institute of Santa Cruz, CA. The Romero Institute is named after slain human rights advocate Archbishop Oscar Romero of El Salvador. The Institute seeks to identify and dismantle the structural sources of injustice and threats to the survival of our human family.