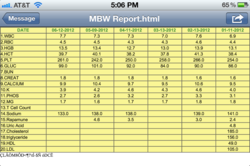 (PRWEB) July 17, 2012
A new report by global management consulting company Accenture on eHealth attitudes, perceptions and expectations has revealed that 76% of people want to connect with their physician via email – an overwhelming preference that Glen Ogle, the creator of iPhone health app MyBloodWorks, says is only going to get higher and higher in the future.
"Sharing information with doctors via email is not only convenient, efficient and can lead to better patient care outcomes, but it also helps patients play a more active role in their personalized care program," commented Ogle. "And that's one of the reasons that MyBloodWorks is so popular, and regularly makes the iTunes "What's Hot" list. People really like the built-in email feature, and are using it to communicate with their doctor and better manage their health and wellness."
MyBloodWorks is an innovative iPhone health app that lets people track their vitals and blood levels, access their own virtual medical secretary, and easily email blood test results to their physician at the press of a button. They can also take a snapshot of any of the app's charts and reports – such as those related to blood pressure -- and email the photo to any doctor, or to any other professional on their health care team.
Added Ogle: "It's not just patients who benefit from the app's email functionality. Doctors and other health professionals can now get the information they need quicker and faster, which helps them make better use of their limited resources. It's win-win."
In addition to its email functionality, MyBloodWorks allows people to store and track medication information, add emergency contact numbers, and keep track of past and future doctor's appointments. The app is designed to be simple and easy to use, and all information is securely stored locally on their device.
People with a medical condition that requires tracking and monitoring of vitals and blood levels, and who are among the 76% of people – and growing – who want to connect with their doctor via email, can download MyBloodWorks from the iTunes store here. The app is compatible with iPhone, iPad and iPod touch, and requires iOS 3.0 or later.
For media inquiries or questions see email listed.
About Gogle LLC
GOGLE LLC is dedicated to creating the best patient medical apps. The company's flagship app, MyBloodWorks, tracks health through vitals and blood tests, and functions as a personal medical filing cabinet and secretary – and all while being simple, easy and intuitive to use. Learn more at MyBloodWorksapp.com.