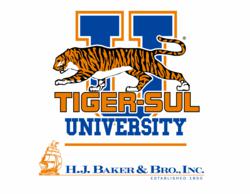 WESTPORT, CT USA (PRWEB) July 18, 2012
H. J. Baker's Tiger University is sponsoring a webinar on The Agronomics & Economics of Fall Applied Sulphur hosted by Mike Adams of AgriTalk, a nationally syndicated talk show, on Tuesday, August 14th at 2:00 pm cst.
Mike Adams will be moderating the discussion with Wes Haun and Drew Taylor, both with H.J. Baker, as they discuss research on the merits of fall applied sulphur. Wes Haun is a Research Agronomist with a Masters of Science in Plant Soil Science from the University of Tennessee. Drew Taylor, Director of Tiger-Sul product management, has over two decades experience in the industry with a degree in Agricultural Economics from Purdue University. They will be discussing how adequate plant sulphur nutrition and its unique interaction with other nutrients can improve crop yields. Advanced application technology and shifts in storage and blending practices are leading the way toward getting the most from the agronomic and economic value of fall applied sulphur.
Topics will include:
Agronomics

Function of Sulphur in plant nutrition
Sulphur reaction in soil & availability for plant uptake
Factors influencing the sulphur cycle
Fall application of bentonite sulphur enhances pastille breakdown
Economics

Handling, storage and blending options for 90% PNS
Application techniques & options for sulphur bentonite
Variable rate programs with sulphur bentonite
Economics of adding sulphur bentonite to your fall program
The webinar will be held live August 14th at 2:00 pm cst and will last one hour. The live event will include a question and answer session. Participants can register at http://www.tigersul.com.
H.J. Baker & Bro., Inc. a name synonymous with quality in the feed, fertilizer and sulphur industries for more than 160 years. With more than 20 locations throughout the United States, Canada and Mexico, H.J. Baker has been mobilizing resources and providing outstanding products and services to the agriculture industry throughout the world. The company's strategically located processing plants, offices and warehouses create a super-efficient pipeline for the vital commodities and products that it sources, manufactures and markets. H.J. Baker & Bro., Inc. is headquartered in Westport, Connecticut USA.
Tiger-Sul Products is a wholly-owned subsidiary of H.J. Baker & Bro., Inc., which is based in Westport, Connecticut. Tiger-Sul Products is a global leader in Sulphur Bentonite, Sulphur Bentonite Micronutrients technology, and other well-established fertilizer products with over 40 years of operational excellence. TIGER®, TIGER 90CR® and TIGER MICRONUTRIENTS® are registered trademarks of Tiger-Sul Products in the United States, Canada and possibly other countries.
For more information on H.J. Baker & Bro., Inc. visit their website at http://www.bakerbro.com.