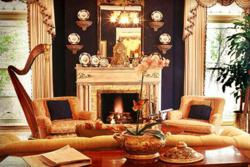 Many of our guests head for the beach after breakfast. Tybee Island is only minutes away.
Savannah, GA (PRWEB) July 17, 2012
Now that the long, hot summer is turning a tad cooler, reward yourself by spending a few days at Savannah's Ballastone Inn before the summer specials run out, suggests Jennifer Salandi, owner of the four-star bed and breakfast chosen year after year as Savannah's Most Romantic Inn and its Best Bed and Breakfast.
According to Salandi, the Ballastone's best summer vacation rates are available Monday through Thursday through August. Go to http://www.ballastone.com, email to inn(at)ballastone(dot)com or call 912/236-1484 or 800/822-4553 for availability and more information. Regular room rates range from $179 to $365.
Originally built in 1838, the Ballastone Inn is located at 14 East Oglethorpe Avenue in Savannah's historic district, convenient to the best dining, shopping, local culture and attractions. The intimate, luxury Inn features a parlor and private bar plus 16 sumptuously outfitted bedrooms on four floors. The beautifully decorated Victorian-style mansion includes an elevator, private courtyard garden and limited off-street parking.
Salandi says her professional staff and concierge services are the best Savannah has to offer, always working to make guests' getaway vacations, romantic weekends and business trips as pleasurable as possible. Several Ballastone vacation packages are available including a Walk, Ride and Dine Tour; Savannah Dinner and Sightseeing Tour; Ladies Weekend Getaway Package; the Earl Moore Walking Tour and a Romantic Getaway Package.
"Our staff also will make arrangements for an historic carriage ride, nature tours, golf outings, the best private guided tours or anything else to help make Ballastone visits even more special," said Salandi.
"Many of our guests head for the beach after breakfast. Tybee Island is only minutes away. We set them up with beach chairs and beach towels and include a simple picnic lunch, too," she said. "But the best part is returning to the Ballastone and washing the salt water out of your hair in your room's elegant bath. Then, you might want to take a short nap in the cool comfort of your antique-rich room before you come downstairs for a glass or two of crisp, chilled white wine and some tempting nibbles prior to your night out on the town," she added.
"Every moment at the Ballastone is special, whether you are enjoying the comfortable luxury of the parlor and bar or the intimate elegance of the rooms and suites," Salandi said. "We also provide a gourmet breakfast, a charming afternoon tea, and tasty evening hors d'oeuvres plus fine wines from our private bar. There's free WiFi and television in every room plus the Wall Street Journal, USA Today and the Savannah Morning News delivered daily, if you must stay in touch with the outside world while you are staying with us."
EDITORS – Visitors to Savannah's Ballastone Inn tend to come primarily from the states of Georgia and Florida, of course, but they include guests from California, New York, Ohio, South Carolina, Texas and Washington, DC. Other guests come from Arizona, Connecticut, Iowa, Kansas, Louisiana, Maine, Mississippi, Nevada, New Jersey, North Carolina, Pennsylvania, Virginia as well as from other states and around the world.