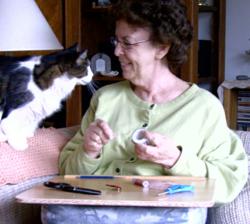 Our customers are a varied lot and helping them with their ideas and needs makes my job interesting and fun.
Eugene, Oregon (PRWEB) July 26, 2012
Lap of Luxury Lap Desks wants their customers to actually use their lap desks!
Typically desks are used to hold and protect laptop computers (and laps) from the effects of excess heat. They are frequently used for TV trays and to hold snacks. The third most popular use is for writing: letters, journal entries, holiday cards, crossword puzzles.
"While people typically buy Lap Desks for these uses, I'd like to share some of the more unusual ways my customers have used their desks," says Kathleen Hogan, Owner, Lap of Luxury Lap Desks.
Here's the list:
Fly Tying. Jim Barber of Grand Rapids, Michigan shares that he drilled small holes along the edge of the desk and inserted small pegs, now uses them for tying flies.
Making Origami. Kim Salendar of Chapel Hill, N.C. uses her desk for folding Origami. This gives her a chance to sit down with her kids and interact while creating something, and all without the noise of video games or TV programming.
Grading Papers. Melinda Seitz of Houston, Texas is a teacher who uses her desk every evening. "I like to put my feet up at the end of a long day and do my grading on my lap with a glass of wine near by," she says.
Sleeping: Tami Foley of Highlands Park, Colorado says her kids use their desks as pillows when the family is out camping. Done for the day? Jusr flip the board over and say good night.
Making jewelry. This is a special order lap desk put to good use. The pencil ledging is extended all the way around the board so that the beads do not roll off. The beader can use a felt jewelry board on top of the desk or simply place a soft cloth over the top to help keep designs in place. Deborah Schussler of Elmira, Oregon is one of several who have ordered beader boards.
Making crafts. Jan Zoll of Eugene, Oregon uses her Luxury Lap Desk to work on her lovely heart pins.
Back Support: Al Ward of Blacklick, Ohio says he uses his as a back support when he's done reading the paper and wants to take a snooze. "I just put the pillow part against my lumbar area and lean back, its perfect," he says.
Whether eating, reading, writing, crafting, computing or sleeping, these well made desks offer solutions to life's every day needs. Meticulously hand made, each Lap of Luxury Lap Desk is an original. The varieties of wood available for the ½" desk top include walnut, cherry, maple or bamboo. The large attached cushion offers excellent postural support. Custom orders, such as the above mentioned beader's board, are welcomed.
Since 2005, Lap of Luxury Lap Desks has made lovely and functional products that allow users to work away from a table or desk with support and ease. Offering this expanded list of uses is one way of showing their high regard for their customers.