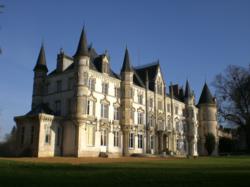 One of France's most-famouse private chateau residences - now for sale
Miami Beach, FL (PRWEB) July 17, 2012
Zilbert International Realty, an innovative and successful Miami-based real estate agency, announced today that it has been selected as the exclusive sales and marketing company for France's famous Chateau de Charbonnieres. The historic chateau is a private residence located in France's Loire Valley, and sits on 37 hectares (79 acres) of land. It is being listed for sale at US $37M. The property has been renovated and upgraded to a 2012 standard, while retaining most of the original and historic features.
The Chateau de Charbonnieres is located near Paris, and dates back to the 15th century when it originally was constructed as a castle. In the 18th century, the Count of Chamois started a massive construction project to extend the castle and create part of what is today's chateau. Further additions in the 19th century extended the main structure and supporting buildings to the current, combined 33,000 square feet of living space. A recent four-year renovation project restored the chateau to its original glory, while adding modern infrastructure for a modern lifestyle.
The Chateau de Charbonnieres is one of a few historic chateaus in France that is not required by the French government to be publically-accessible. It is a private, unencumbered property that affords its occupants maximum privacy and complete seclusion. Its 79 acres of private land include a forest, river, lake and meadows; plus horse stables, a French garden in the flavor of Versailles and an Orangery, where oranges and other warm-weather vegetation are grown year-round.
The main chateau offers 15 spectacular bedrooms, many with private salons. There are a variety of traditional special-purpose rooms, such as a ballroom, library, grand rooms, dining rooms and others, There is also a complete two-bedroom apartment in one section of the castle, along with a special top-floor open room suitable for a home theater, game room or other use.
The massive renovation and restoration project of the Chateau de Charbonnieres started in 2007. It was recently completed. Most of the original features of the structure, such as doors, beams, facades and special treatments were retained and restored. The 150 windows, electrical systems, plumbing systems and other infrastructure were entirely removed and replaced to a modern standard. The property has even been brought up to a digital standard, with Internet and wireless access points throughout the chateau.
Further details of the Chateau de Charbonnieres, including photos and a virtual tour can be found at http://www.zilbert.com/chateau
ABOUT ZILBERT INTERNATIONAL REALTY
Zilbert International Realty is full-service, premium real estate brokerage that works with clients from around the world, helping them to buy and sell properties. It specializes in luxury estates, condos, homes and vacation properties across the globe. Through its alliance with the Who's Who of Luxury Real Estate and LuxuryRealEstate.com, Zilbert's global reach extends to over 70,000 real estate professionals in over 60 countries. Collectively, Zilbert and its network partners sell over $190B annually.
The company's website, http://www.Zilbert.com is a popular tool for its customers, with over 50,000 visitors each month, and over 10,000 properties that are updated continuously.
Zilbert's sales associates are an elite team of real estate professionals, recruited through a specialized, invitation-only selection process. The company is also a leader in the use of technology and social media to help it engage with its clients. Its core business philosophy is to build personalized, one-on-one relationships with buyers and sellers of real estate, and to partner with them through every stage of a real estate transaction. Its People-and-Technology approach to the real estate market enables it to provide an exceptionally-high level of customer service and customer satisfaction.
Zilbert International Realty was founded in 2003 by Montreal-born Mark Zilbert, a technology innovator who realized almost a decade ago that to prosper in real estate would require a strong adoption of technology. Having worked for such customer-focused technology companies such as Siebel Systems (now part of Oracle Corp.), Mr. Zilbert embraced technology and real estate, and developed tools to help buyers and sellers of real estate understand and engage in real estate transactions. Mr. Zilbert has appeared on numerous national news programs including ABC's 20/20, CNBC, CBS' Morning Show, ABC's Nightline. He has also been featured in the Wall Street Journal.
The firm offers a number of ways for its customers to interact with it. Its traditional business operation offers buyers and sellers of real estate access to sales professionals via its offices, by telephone, on the web, and in person. Its new Zilbert Realty Store is a retail-like shopping experience where buyers can interact with professional sales associates in a casual setting.