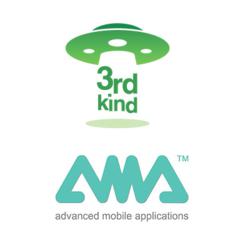 We are glad to publish our best games through KDDI's "au Smart Pass", says Christian Guillemot, CEO of AMA.
Tokyo (PRWEB) July 19, 2012
3rdKind Inc. and AMA Ltd (Advanced Mobile Applications) announced today, the beginning of a cooperation in order to publish AMA's Android apps to the Japanese Market for NTT Docomo and for KDDI on "au Smart Pass" service.
Based in Tokyo, 3rdKind provides a way for foreign companies to maximize sales of their games in Japan by providing marketing, localization, development and "culturization" support. The cooperation with AMA will allow 3rdKind to introduce to the Japanese market, high quality games for the mobile operator.
3rdKind recently signed an agreement with the second largest mobile operator in Japan, KDDI, allowing him to support developer's apps with solid promotion for the KDDI Android Store "au Smart Pass".
AMA focuses on offering high quality games to everyone. "Our partnership with 3rd Kind confirms this desire. We are glad to publish our best games through KDDI's "au Smart Pass", says Christian Guillemot, CEO of AMA.
This cooperation started on July 2nd, with the release of the Japanese versions of "Cross Fingers" and "Panic Flight" on the KDDI "au Smart Pass" service. 3rdKind and AMA expect to provide title to the au Smart Pass consistently.
About AMA
Founded in 2004 by the Guillemot Brothers, Advanced Mobile Applications Ltd. is an international game and application developer and publisher specializing in content for mobile devices, tablets and Kinect. AMA, sister company of Ubisoft and Gameloft, is present on all the current mobile OS - including iOS, Android, QnX, Windows Phone 7, J2ME and Brew. AMA Ltd partners with a selection of the best development studios worldwide to stay at the cutting edge of video game technologies.
About "au Smart Pass"
The "au Smart Pass" is an app subscription service for KDDI's Android users: for a monthly fee of 390 yen/US$4.70, the service gives them unlimited access to more than 500 applications, which are selected by the carrier itself. All of these apps are free to download. The service has reached now more than 1 Millions users.