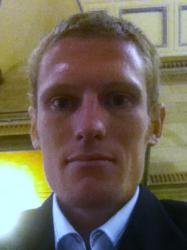 Be the change you want to see in the world. ~M.Gandhi.
Adelaide, Australia (PRWEB) July 22, 2012
• How does the online C.B.T program work ..???
All you need to do is follow our self-explanatory online step-by-step therapy, which consists of 8 different sessions. You will get access to worksheets in each session, and to a personal therapist (Hamish) who will monitor all parts of your online therapy program. You will receive daily feedback on your worksheets, as well as access to live-chat with your therapist, Monday - Friday. For more details visit: http://www.online-therapy.com/how_it_works.php
C.B.T. therapy is one of the most commonly used methods for treating mental-problems.
C.B.T. is a psycho-therapeutic approach that you can use to identify, challenge and overcome your dysfunctional thoughts, behaviors and emotions. The benefit of online CBT is that you can change the way you think so that you feel and act more consciously, even if the situation hasn't changed.
Hamish's Experience/Qualifications:

M.B.C.T. (Mindfulness Based Cognitive Therapy) Workshop - 10hrs - A group of people learning
M.B.C.T. for the first time - Lead by a professional M.B.C.T. Practitioner.
Short Counselling Course - 10hrs - Lead by a Psychotherapist in theory, practicals & an exam @The Natural Therapy School S.A.H.E.C.
Certificate IV in Massage-Therapy ('informal counselor') Qualification - 100hrs - @Natural Therapy School of S.A.H.E.C.
Online-therapy work experience (http://www.liveperson.com)
Presently studying full-time, on & off campus, a 'Diploma in Counseling' @TafeSA.
Reviews ->
"So far it has been exactly what I needed. I find myself open to new experiences, feeling more spiritual, doing much less overeating/watching TV. Also have been putting that energy, toward making my dreams come true. I'm once again working on my business and moving forward. Thanx!" ~ Judi.
"I just had an outstanding chat-session with my online-therapist." ~ Anonymous.
Short Clip of a Professor in Psychology talking about C.B.T. -> http://youtu.be/JSO6iAFekPw