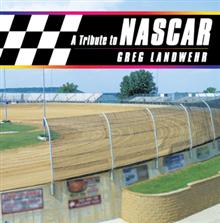 Versailles, IN (PRWEB) July 18, 2012
For any NASCAR fan, the back of book copy of Greg Landwehr's new book, "A Tribute to NASCAR" (published by WestBow Press), says it all:
"A must see for any NASCAR fan. The legends, the stars, the could be, will be and should have been of the NASCAR family. From Lee Petty's three Championship titles to Jimmie Johnson's five in a row, from Winston Cup to Sprint Cup, this book is much, much more. Tracks, sponsors, Victory Junction and the NASCAR Hall of Fame all come together in a delightful book for the veteran or rookie."
With the release of A Tribute to NASCAR Landwehr has given NASCAR fans everywhere a one-stop reference to the sport's greatest drivers. Yet, more profound than Landwehr's love of the sport is the sentiment behind the book.
"Probably more than anything, the death of Dale Earnhardt and Adam Petty inspired me to realize that more should be said," Landwehr reveals. "Sure, throughout NASCAR's history there have been accidents, injuries and death, but these two hit at the very core of our NASCAR family. To some it's still an open wound."
The lingering pain of Earnhardt and Petty's death was felt in particular one Sunday in 2003. After watching the race, Landwehr was just sitting back finishing the day when he saw for the first time Josh Turner singing "Long Black Train."
"The words of the song, Josh's deep reverent sound and the Cup race fresh in my mind, these words came to me: 'Twenty-one rows, one more goes.'" These words led Landwehr to pen the song, "Champions A Tribute to NASCAR." Landwehr spent nine years trying to get the song picked up by Josh Turner before deciding to take his tribute directly to the fans. The song makes up the foundation of "A Tribute to NASCAR."
Landwehr likens the book to a memorial and is humbled by its creation.
"I didn't really write a book," he now says. "It came to me."
About the Author
Greg Landwehr took up writing in 1992 with his first work entitled "Dreams Do Come True" and believes strongly in those four words. He has written television scripts on spec for several shows, including Star Trek/The Next Generation, Jag and West Wing.
At 55 years of age, Landwehr has enjoyed 35 years of marriage and shares two children and five grandchildren with his lovely wife.
WestBow Press is a strategic self-publishing alliance of Thomas Nelson, Inc., the world's largest Christian publisher, and Author Solutions, Inc. (ASI) — the world leader in the popular self-publishing industry segment. Through this partnership, authors benefit from the rich publishing heritage of Thomas Nelson and the speed-to-market advantages of the ASI self-publishing model. Titles published through WestBow Press are evaluated for sales potential and considered for publication under the Thomas Nelson imprint. Thomas Nelson, Inc. continues to "inspire the world" with distribution of products in more than 100 countries worldwide. For more information, or to start publishing today, visit http://www.westbowpress.com or call (866)-928-1240. Follow us @westbowpress on Twitter for the latest news.
###