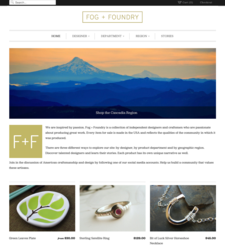 "We believe that the craftsman who made the product is an integral part of its value and that consumers want to hear his story."
San Francisco, CA (PRWEB) July 18, 2012
FogandFoundry.com launched this Independence Day giving American craftsmen a platform for their goods and consumers the rich history behind each product, freeing them to confidently shop American made. FogandFoundry.com is a carefully edited selection of handmade and small production goods each made in the USA. Designers are showcased with an approach the company calls "narrative retail," that reveals each product's backstory. "Large retailers treat e-commerce like a vending machine," noted co-founder Ben Blakley. "We believe that the craftsman who made the product is an integral part of its value and that consumers want to hear his story."
FogandFoundry.com was founded by e-commerce veterans who reject the industry's move toward massive product catalogs that put the onus on the consumer to ferret out unique items. Instead, a curated assortment of high-quality craftsmanship allows for easy discovery and provides ample opportunity for engaging with the story of the product and its designer.
For consumers interested in American made goods FogandFoundry.com provides additional context by organizing its catalog into geographic regions. The site includes designers from the San Francisco Bay Area and Cascadia regions, with plans to expand to Southern California later this year. "There's a new thoughtfulness to how we consume driven by economic, environmental and social awareness," said Blakley. "Buying from American manufacturers gives us more control over the impact of our dollar, and another tool with which to shape local communities."
As politicians and pundits bicker over offshoring and the provenance of Olympic uniforms, it's consumers who hold the key to reviving our flagging economy. According to a study conducted by ABC News last fall, consumers spending an additional $64 each on American made products would create 200,000 new jobs.
FogandFoundry.com organized its product catalog to allow customers to shop by designer, by product department or by geographic region. The current assortment includes jewelry from Seattle designer lolide, backpacks from Portland brand Lemolo Baggage and ceramics from San Francisco artist Hope Johnson, among others.
About FogandFoundry.com
FogandFoundry.com is a boutique retailer of American craftsmanship. With a carefully curated product catalog of exclusively handmade and small production goods, FogandFoundry.com emphasizes the details of design and the story behind each product and its maker. Consumers may shop the store by designer, product department or geographic region. For more information, please visit FogandFoundry.com.
Contact:
Ben Blakley
ben(at)fogandfoundry(dot)com
415-244-2671
###