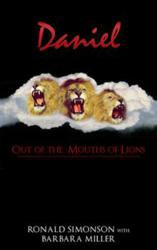 PORTLAND, Ore. (PRWEB) July 18, 2012
In his most recent book "Daniel: Out of the Mouths of Lions" (published by CrossBooks), Ronald Simonson takes cues from the biblical story of Daniel and works to fill in the gaps where the holy text leaves off.
"Daniel" opens in the Kingdom of Judah during the last years of King Josiah in about 605 B.C. Readers are introduced to Daniel and his father, Samuel, on a mission trip to the southern "High Places" of pagan worship. Things quickly fall apart, and Daniel is forced into exile in Babylon. "Daniel" begins filling in the unknown parts of the story here, and he offers readers a version of what the next 70 years of Daniel's life were like.
Simonson, who draws from his experiences as a long time football coach and administrator, looks at the story of Daniel as a leadership tale. "Daniel did not choose to be a leader," he suggests. "In leadership there are trials and challenges. Obedience usually surfaces into success. I have often seen it on the football field. Daniel's chosen obedience to God becomes success repeatedly."
Simonson also looks at the story of Daniel as one that should inspire Christians to remain steadfast in their commitment to serving God. He says, "As Daniel walks along the forced march into the entrance of Babylon, we follow Daniel and see his obedience to God when he is hard pressed to go against Gods' commands by many of his fellow Judeans."
About the Author
Ronald Simonson developed a deep understanding of leadership during 32 years as a football coach and administrator. The biblical account of Daniel intrigued him, and he wanted to fill in the gaps that led him to leadership. He lives in Oregon.
Barbara Miller, his coauthor, provides a unique voice as a storyteller. She is also a longtime Bible study leader.
CrossBooks, a division of LifeWay Christian Resources of the Southern Baptist Convention, is a Christian publishing imprint committed to bringing more Christian voices into the publishing industry. Established authors, first-time authors, and authors anywhere in between can meet their goals and fulfill their vision for their books by publishing with CrossBooks. CrossBooks' innovative style of publishing blends the best of traditional and self-publishing. While our authors contribute monetarily to cover the cost of publishing, we maintain a strict moral and quality standard that every manuscript must meet for us to publish. For more information on publishing your Christian book with CrossBooks, log on to crossbooks.com or call 1-866-879-0502.