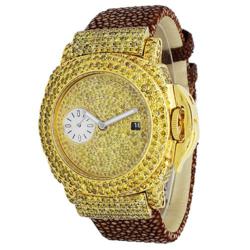 New York, NY (PRWEB) July 17, 2012
Last week we took readers inside Lil Wayne's latest custom pendant, a diamond skateboard. This week Avianne & Co Jewelers present Cee Lo's latest exclusive piece of custom jewelry, a fully flooded 20 carat yellow diamond watch.
As New York's premier designers of mens diamond rings and various other trend setting hip hop jewelry pieces, Team Avianne provided the musical genius a one of a kind Panerai flooded in 20 carats of micro pave set round cut yellow diamonds. The watch can be viewed online but unfortunately no more can be purchased, and the piece is only on display. The case was micro pave set, meaning the diamonds are so tightly set together that the diamond setter needs a microscope to be able to secure each stone. A process like this generally takes 3-5 days, depending on the complexity of the item being "iced out." Team Avianne has gotten intricate diamond setting down to a science, masterfully putting together hip hop jewelry flooded in diamonds with minimal effort, sometimes in under 24 hours.
Cee Lo is not your average rapper, and does not wear your average hip hop jewelry. Whereas many artists keep it simple and stick to the generic diamond chain or set of diamond crosses, Cee Lo is known for jaw dropping pendants and wrist pieces. One notable piece is his life sized diamond bullet, which can be viewed at the Avianne & Co Blog.
For more exclusive hip hop jewelry, log on to our blog at http://www.avianneandco.com/blog/celebrity-diamond-jewelry.