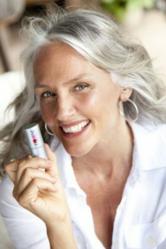 It's not about aspiring to youth anymore. We are people that are enjoying who we are and what we are
New York, NY (PRWEB) July 17, 2012
Boomer Ladies Inc. is set to release their gray hair survey on their website, the result of a full year of study and involvement in the industry.
Maggie Janson, one of the Managers for the site that helped assemble the survey said, "A lot of work has gone into creating this survey, we take hair color very seriously and want to provide people the latest news on what colors women over 50 are dying their hair and whether or not they are dying it at all!"
Boomer Ladies Inc. discovered that a model by the name of Cindy Joseph is the new poster girl for boomers reinventing themselves around the country.
For Cindy Joseph, a model was 18 years old, 18 feet tall, and 18 pounds. So when she looked in the mirror and she didn't see that, she never dreamed that she would be modeling. She saw gray hair, or as she calls it, silver hair.
Boomer Ladies Inc's survey will release statistics from over 5,000 women over 50 who were polled on whether or not they plan to grow out their gray hair.
For more information on hairstyles for silver and gray hair or information on growing out gray hair, check out another boomer resource called Going Gray Looking Great.
You can buy the going gray book at their website http://www.GoingGrayLookingGreat.com