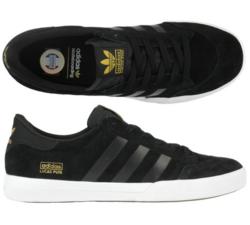 These Lucas Puigs are dope, they feel so nice and its a great feel to skate in them.
Annapolis, MD (PRWEB) July 17, 2012
Adidas Skateboarding is a brand that is loved by skaters. They make some of the most technologically advanced shoes designed specifically for skateboarding. Pure Board Shop is proud to be an authorized Adidas Skateboarding Dealer and is happy to announce the arrival of the highly anticipated Lucas Puig Pro Model.
Lucas Puig is the newest member of the Adidas Skateboarding team and has received his own pro model for being apart of the crew. The shoe features a very low profile. The upper part of the shoe is a high quality, black suede. The iconic Adidas stripes are also black giving the shoe a cool sleek look. Flashes of metallic gold are on the branding and give the shoe the perfect amount of flash. All of this is paired with a classic white sole. This really makes the shoe stand out as a competitor in the skate industry as well as the sneakerhead industry.
Pure Board Shop opened its doors on May of 2005. Its ease of access and parking make it a destination shop for riders and urban street ware fans alike. With their mix of products and variety in skate, snow, surf and exclusive streetwear and shoe brands Pure's customers extend far beyond their Annapolis location. Pure prides itself on making customer service its number one priority, with product knowledge and having the right product mix a close second. The store and the website feature an ever growing brand inventory such as Nike SB, Nike Snowboarding, Adidas skateboarding, Vans, Diamond, HUF LRG, RVCA and The Hundreds. The shop also prides itself on having the largest variety of longboard equipment in the area; with brands like Land Yachtz, Rayne, Caliber, Cult Wheels, Abec11 and many more. Pure puts on monthly skateboard jams/events in their local skateboard park as well as sponsors many longboard slide jams in the DC Metro Area.
Contact Pure at 410-267-7669 or visit them on the web at pureboardshop.com