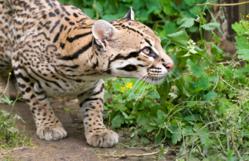 "Zoofari will have a fabulous silent auction area with wonderful trips, golf outings, and one-of-a-kind gifts; folks can enjoy an evening under the stars with great food, drinks, music, and dancing!" - FOSAZ Board President Debbie Friedman
Santa Ana, CA (PRWEB) July 17, 2012
On Saturday, August 25, 2012, from 5:30 PM-midnight, the Friends of Santa Ana Zoo, a non-profit organization, celebrates the 20th annual Zoofari fundraising black-tie gala, with the a 1920's theme "Cat's Meow." The event will be at the Santa Ana Zoo during one of Southern California's hot summer nights.
Special honorees this year are Mark and Shio Hui Harrison; Lucille and Mike Harrison; David Exline and Amos Bracero. They were instrumental in bringing the Pavement of Progress team together by meeting with designers, contractors and architects. This project resulted in the pathways and service roads at the Santa Ana Zoo to be eco-friendly and also provide improved accessibility for disabled guests and guests requiring mobile assistance. Co-chairs and emcees for the evening are OC Register columnist Frank Mickadeit and contributing columnist Barbara Venezia.
This year Zoofari is continuing to raise money for a pair of Brazilian ocelots. Ocelots are "exotic" wild cats from South America often described as "miniature cheetahs." There are currently only 26 Brazilian ocelots in the United States. Scientists hope to increase that number to 120 in captivity by the year 2025.
At 5:45pm, a special "reveal" of the Ocelot location where the exhibit "Wild Cats of El Bosque Verde" (Wild Cats of the Green Forest) will be housed. This will be the first time the public will be able to see the exhibit location before it is built. Photo, Video and interview opportunities will be available (see below for visuals list).
The evening includes valet parking underwritten by Villa Ford, a fully hosted bar, hors d'oeuvres, entertainment, a "Bathtub Gin" style signature drink, photo opportunity in a paddy-wagon, 1920s-themed decorations by R.W.B. Party Props, and live and silent auctions. Glen Fladeboe, is the honored host for the live auction, followed by a fully catered sit-down dinner by Parties by Panache and dancing to "Soundbytes."
Reservations are required. Marketing sponsorships and program ads are available. For reservations and information, contact The Friends of Santa Ana Zoo at (714) 953-8555 x-10 or on-line at http://www.santaanazoo.org.
Video and Photo Opportunity for Press for Ocelot* Location "Reveal":
Along with the location of where the exhibit will be housed, press will be able to shoot video footage and photography stills of the drawings and designs of the new "Wild Cats of El Bosque Verde".
They will show:

Amazon basin type atmosphere with canopy of rain forest foliage
Waterfalls and Water Views behind glass for a sensory experience
"Peek a View" activity area for children
Interactive Sand Table which will let children interact with the cats
Interviews available:

Kent Yamaguchi – Director of Santa Ana Zoo
Cathi Decker – Executive Director of FOSAZ (Friends of the Santa Ana Zoo)
Gala Event Information:
ZOOFARI 2012 –"CATS MEOW"
August 25, 2012
5:30 PM to 12:00 AM (midnight)
Dining, dancing, and hosted bar
Tickets are $225.00 per person, or tables may be purchased for $2,250.00 for tables of 10.
(714) 953-8555 x10 or visit http://www.santaanazoo.org
*Ocelots may or may not be available day of reveal, subject to change