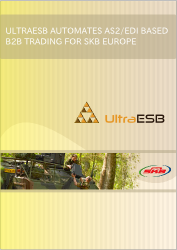 This was our first AS2 based integration with a trading partner, and AdroitLogic provided us excellent support throughout the process
Singapore (PRWEB) July 17, 2012
AdroitLogic, developer of the Open Source Enterprise Service Bus (ESB) UltraESB, today announced that SKB Europe, a leader in high-quality aluminium and plastic cases and boxes, has deployed the UltraESB as an AS2/EDI integration platform for Business-to-Business (B2B) integration. The system initially integrates the ERP system of SKB Europe with one of its key trading partners Amazon, via EDIFACT based EDI documents exchanged over the AS2 protocol.
A case study published by AdroitLogic describes the challenges and the solution in detail, and can be downloaded from http://downloads.adroitlogic.com/casestudies/UltraESB-SKB-Europe-CaseStudy.pdf
"This was our first AS2 based integration with a trading partner, and AdroitLogic provided us excellent support throughout the process" said Oscar Dekkers, Managing Director of Faes Packaging Solutions, which developed the solution for SKB Europe. "The UltraESB provided an easy to use yet powerful solution, and was able to seamlessly integrate the EDI flows with the ERP system"
The UltraESB is a free and open source ESB that includes native support for the leading B2B trading protocol AS2 (Applicability Statement 2). Launched in January 2010, it's also the only ESB that supports Zero-Copy proxying for extreme levels of performance utilizing Direct Memory Access (DMA) and the 'sendfile' system call, along with Non-Blocking IO. The UltraESB supports multiple communication protocols, message formats and technologies and is also the underlying ESB powering the recently launched Cloud based AS2 Trading gateway (http://as2gateway.org)
About SKB Europe
SKB Cases Corporation was founded in 1977 in Anaheim California, and engineers cases for hundreds of companies involved in many diverse industries. SKB Europe serves the European market for the SKB Cases Corporation, and is the exclusive distributor of the brand Defender, for aluminium boxes and the brand SKB for (water-tight) plastic cases, boxes and racks.
About AdroitLogic
AdroitLogic Private Ltd. founded in January 2010, is a privately held innovative technology company based in Singapore, that believes in, and proves, that better design and clever code yields much better software. AdroitLogic is driven by an exceptional team of integration experts with many years of ESB development and benchmarking experience, and backed by the dedication and commitment of its founders, who are personally involved with the design, development and support of its products.