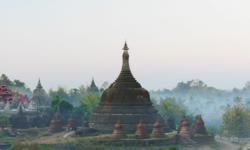 It's difficult to avoid the tourism masses at some popular destinations such as Angkor Wat in Cambodia. But it is doable. And we do our best to take clients down that road less travelled
Bangkok, Thialand (PRWEB) July 25, 2012
To cater to the growing demand for authentic travel experiences Backyard Travel are expanding their 'Road Less Traveled' styled Asia tours.
Travel interest in Myanmar is increasing with such spectacular sights. Backyard Travel includes must see sights but does so in a unique manner. In Bagan travelers can view the temples by bicycle or even hot air balloon rather than the standard bus tour, and in the former capital Yangon, hidden areas of Shwedagon Pagoda are visited.
"It's difficult to avoid the tourism masses at some popular destinations such as Angkor Wat in Cambodia. But it is doable. And we do our best to take clients down that road less traveled" says Backyard Travel Product Manager Maeve Nolan. "Our Cambodia tours include options for less visited Angkor temples such as Beng Mealea where travelers are assured authentic experiences" Nolan comments.
Nolan says "Providing authentic experiences doesn't necessarily mean you have to go off the beaten track. In popular Asian cities like Bangkok or Phuket we take our travelers to the lesser known floating markets and beach hideaways without having to contend with the crowds."
The key to Backyard Travel offering authentic experiences is their team of local country based Travel Specialists. Based in Japan, Thailand, Cambodia, Laos, Vietnam, Myanmar, and Indonesia the Backyard Travel team is kept up to date with travel trends and can amend tours to take into consideration local activities. In this way the small group and custom designed tours can balance the must see icons with the opportunity for authentic travel experiences.
ABOUT BACKYARD TRAVEL:
Bangkok based Backyard Travel is an online travel company specializing in tailor made tours to Vietnam, Thailand, Cambodia, Laos, Myanmar, Indonesia and Japan. For more information about Backyard Travel, visit http://www.backyardtravel.com or 'like' the brand on Facebook at http://www.facebook.com/BackyardTravel