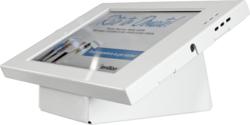 Terillion's QuickRate Pro Bundle iPad kiosk package offers a solution for an entirely new area of the customer review marketplace.
Sandy, UT (PRWEB) July 24, 2012
In today's marketplace, businesses are scrambling to find ways to integrate social media analytics and mobile solutions into their day-to-day operations and customer interactions. That job requires hardware and software solutions, and to that end, iPad Enclosures, a Utah-based tablet enclosure purveyor has partnered with software innovator Terillion, to provide the QuickRate Pro iPad Lock Bundle for gathering, certifying, and publishing online customer reviews, all through an on-site tablet kiosk.
Terillion provides an online reviews service that captures, verifies, and distributes reviews via their web app, QuickRate Mobile, and the enhanced version, QuickRate Pro. QuickRate collects reviews via QR code or text, with selectable star rating categories and a handwritten review section for businesses to capture authentic review content. After completing a review, a user can share on Facebook, as well as index with Google reviews and the Terillion website.
iPad Enclosures has partnered with Terillion to provide tablet enclosures and mounts to make gathering reviews on-site much easier. Now when customers sign up for the QuickRate Pro Bundle package from Terillion, they get all of the benefits of QuickRate Pro along with an iPad 2 tablet, locking iPad Kiosk, and a tethered stylus. The package includes a choice between iPad Enclosures' Evolve iPad Lock Case or Full Metal Jacket iPad enclosure, in combination with the Figure 8 iPad mount and a tethered stylus from Kensington. Medical professionals, restaurants, and retail establishments now have a simple solution for engaging their customers and generating a positive web presence.
"The packaging of tablets, secure iPad locking hardware, and industry specific apps has become the core driving force of our business," states Ryan Meyers, VP of Sales for iPad Enclosures. "Products such as Terillion's QuickRate Pro Bundle package offer a solution for an entirely new area of the review marketplace."
About iPad Enclosures
Located in Utah's "Silicon Slopes," the fastest growing technology seat in the country, iPad Enclosures is an enterprise-level tablet solutions company that manufactures hardware, builds software, and designs mobile apps to meet customers' needs worldwide. Visit http://www.ipadenclosures.com for more information.