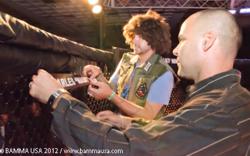 'Joker and Dizak delivered- Brett Roberts, BAMMA USA CEO
Santa Ana, CA (PRWEB) July 17, 2012
'Joker's Comeback Continues
"I was apprehensive about having 'Joker' headline for a second straight time but as it turned out, he ended up being the Main Event and both 'Joker' and Dizak delivered," remarked BAMMA USA CEO Brett Roberts in a post-fight interview. Mike 'Joker' Guymon kept his dream of returning to the UFC alive by winning his Lightweight fight against Xtreme Couture's own 'Magic' Mike Dizak. Guymon had his hands full in the first round as Dizak pressed him into the cage, engaging him with a grinding clinch that kept Guymon from mounting any kind of offense. Dizak scored a takedown early in the second round but that seemed to awaken Guymon's offense as he was clearly the aggressor in the round, pushing the pace with effective strikes from various positions. In the third and final round Dizak attempted to return to the approach he used in the first round but 'Joker' evaded the clinch and when the fight went to the ground, 'Joker' delivered relentless heel kicks to the back of Dizak's legs from the bottom position. All three judges scored the fight 29-28 in favor of Mike 'Joker' Guymon. A fracture in Guymon's right shoulder suffered early in training camp had made this "the hardest training camp" he had ever had, according to 'Joker'. Guymon, who battles depression, had retired from MMA due in part to a much publicized suicide attempt. After counseling and a change in his medication, 'Joker' successfully returned in March of this year with BAMMA USA in a new weight class (Lightweight). Guymon's record is now 2-0 in his comeback attempt.
Beal Remains Unbeaten
In the Co-Main Event, 'The Real Deal' Chris Beal won his 6th straight fight against Kana 'One Man Riot' Hyatt, keeping his record unblemished. Hyatt made Beal work in every round and even had a tight choke in place in the third round but Beal escaped. With Beal's mother in the audience, he was determined "not to lose or my mom would never come to one of my fights again," stated Beal in a post-fight interview. 'The Real Deal' had his son participate in his walk-out and with Beal's younger brother also in attendance it no doubt had a positive effect on his performance. Beal appeared determined and excited the crowd by continually pushing the pace and taking chances at finishing Hyatt at every attempt. The judges agreed by giving the Knuckleheadz Boxing & MMA product a Unanimous Decision win. This marks the fourth consecutive win for Beal inside the BAMMA USA cage, a place he considers as "his home".
Magdaleno Showcases Devastating Elbows
Steve 'The Dream' Magdaleno faced constant pressure from Tom 'The Grinder' Gloudeman early in the first round of their fight when halfway through the round Magdaleno landed an overhand right that dropped Gloudeman. 'The Dream' pounced on 'The Grinder' for a finish with some ground and pound but it wasn't until Magdaleno unleashed some devastating elbows strikes, that opened visible gashes to Gloudeman's head, did the referee stop the fight. This marks Magdaleno's third straight victory, all coming via knockout.
Jasper Moves to 5-0
Mike Jasper remained unbeaten and in the process handed Manny 'Sergeant' Murillo the first loss of his career. Talk about an evenly matched fight, these two fighters had remained perfect through their amateur careers and four (4) professional MMA fights until they faced each other on Friday the 13th. Both fighters engaged in wild flurries of action throughout the bout. Both fighters were hurt at some point in the fight but neither could be finished. Jasper was the quicker of the two avoiding some spinning back fist attempts by Murillo. Knees to the head dropped Murillo on two separate occasions but Jasper couldn't finish the tough fighter. In a fight that Jasper described as a "coin flip", the judges' scores were indicative of that description as all three delivered 29-28 tallies, two of those went to Jasper earning him the Split Decision win.
'Fight of the Night' presented by Polanti Watches
Lew 'Titan' Polley returned to the cage after a two year layoff to battle active-duty Marine Mike 'Pale Horse' Smith in a Light Heavyweight fight. Smith was making his professional MMA debut but he was no stranger to competition having won numerous grappling and pankration tournaments worldwide. True MMA fans were treated to some high level Jiu Jitsu, accurate striking, and perfectly timed takedowns. It was a "dog fight" remarked Polley. The judges' scores were split, with two of them going to Polley giving him the win in a bout that earned 'Fight of the Night' honors and a new Polanti watch for both fighters.
Winner Take All Fight
It was appropriate that the bout between Vince 'Sergeant' Ortiz and Chris 'The Urban Legend' Culley took place in the ballroom of the "largest poker casino in the world" as both fighters were "all in". That's right both fighters agreed that the winner of this bout would walk away with both purses. The third fight and rubber match between the two fighters began with Ortiz pressing forward with punches as Culley countered with leg kicks. Culley let his hands go a bit more in round two as Ortiz added takedown attempts to his striking attack. Late in round three, Ortiz's takedown attempt landed Culley on top of him. Culley took advantage of the mistake and subsequently took Ortiz's back leading to a rear naked choke, forcing Ortiz to tapout with only 45 seconds remaining in the round. The trilogy is now complete.
Brown Knocks Out Thornburg Twice
Eric Brown took his consecutive win streak to three (3) straight by quickly disposing of Josh Thornburg just thirteen (13) seconds into the first round of their lightweight fight. Thornburg walked into a straight right hand that dropped him to the mat. Brown quickly landed two punches that knocked out Thornburg but the referee was slow in stopping the fight, allowing Thornburg to awake, so Brown hit him a couple of more times, knocking him out for a second time. This time the referee jumped in to stop the fight. Brown's last fight ended just 20 seconds into the first round when he submitted his opponent. Brown said in his post-fight interview, "my last fight lasted 20 seconds, so I wanted to top that."
Ceniceros Comeback Win
Max Ceniceros was in all kinds of trouble early in the first round against undefeated Eric 'E-Money' Winston. 'E-Money' rushed Ceniceros early, grabbing both his legs, slamming him sideways into the corner post and taking him to the mat for some ground and pound. Ceniceros escaped and returned with his own version of ground and pound ending the contest with only 29 seconds left in the round. It was a good comeback for Ceniceros who evened his record to 2-2 with the win.
Manly's Win Spans 11 Years
Jason Manly's only professional MMA fight was a win that came 11 years ago. Jorge 'The Envy' Valdez engaged Manly where they are both most comfortable, the ground. The technical display of Jiu Jitsu was closely matched. Manly continually tried to submit Valdez by attempting leg and heel locks. Valdez would escape and attempt his own submissions. After three rounds the judges split their scores, with two of them favoring Manly, moving his record to 2-0.
Speedy Win for Tony Stewart
MMA Fighter Tony Stewart made his professional debut a quick one as he delivered a right hand that knocked out his opponent Teshawn 'Money Train' Walls just 12 seconds into the first round. NASCAR's Tony Stewart is best known for going fast maybe MMA's Tony Stewart is taking a page from him by finishing his fights fast.
Badbeat 6 presented by Budweiser
Friday, July 13, 2012
Commerce Casino
6131 Telegraph Road
Commerce, CA 90040
Main Card Results
Main Event- 155 lbs: Mike 'The Joker' Guymon (14-5-1) defeats 'Magic' Mike Dizak (5-5) via Unanimous Decision
135 lbs: 'The Real Deal' Chris Beal (6-0) defeats Kana Hyatt (10-11) via Unanimous Decision
150 lbs: Steve 'The Dream' Magdaleno (9-3) defeats Tom 'The Grinder' Gloudeman (6-2) via TKO (punches) in 2:14 of RD 1
185 lbs: Mike Jasper (5-0) defeats Manny 'Sergeant' Murillo (4-1) via Split Decision
Preliminary Card Results
205 lbs: Lew 'Titan' Polley (11-4) defeats Mike 'Pale Horse' Smith (0-1) via Split Decision
145 lbs: Chris 'The Urban Legend' Culley (16-10) defeats Vince 'Sergeant' Ortiz (8-9) via Submission (Rear Naked Choke) in 4:15 of RD 3
155 lbs: Eric Brown (3-2) defeats Josh Thornburg (8-6) via KO in 0:13 of RD 1
145 lbs: Max Ceniceros (2-2) defeats Eric 'E-Money' Winston (2-1) via TKO (punches) in 4:31 of RD 1
155 lbs: Jason Manly (2-0) defeats Jorge 'The Envy' Valdez (4-2) via Split Decision
170 lbs: Tony Stewart (1-0) defeats Teshawn 'Money Train' Walls (2-2) via KO in 0:12 of RD 1
Fight Notes
The originally scheduled Main Event fight between Bill 'The Grill' Cooper and Scott 'K.O.' Catlin was scrapped just minutes before the scheduled start of Badbeat 6 because Cooper refused to fight unless his purse was increased. Both the California State Athletic Commission (CSAC) and BAMMA USA CEO Brett Roberts had a valid signed contract by Cooper in hand. When CEO Roberts declined Cooper's attempt to extract more money from the promotion, he had no choice but to scrap the fight. CSAC will move to suspend Cooper's license and BAMMA USA will explore their legal options. The 12 second knockout delivered by Tony Stewart is a Badbeat record for quickest KO. That record may have been surpassed by Eric Brown if his fight would have been stopped after the first KO of his opponent. Since the fight was officially stopped after the second KO, he misses out on at least tying the record by one second. In his post-fight interview, Chris Culley called his fight a "swan song" as he is retiring from MMA to care of some personal medical issues. He left the door open to a return but only if his health allowed. All of Chris Beal's 4 victories since returning to MMA after battling a rare life threating form of cancer have come inside the BAMMA USA cage. TapouT's 'Skyscrape' and BAMMA USA CEO Brett Roberts dedicated the fighter entrance cage door to fallen TapouT founder Charles 'Mask' Lewis. BAMMA USA and the UFC are the only two MMA organizations in the world to officially bestow this honor upon 'Mask'. The Badbeat 6 broadcast was carried live and free of charge on the internet via Livestream. The preliminary number of viewers watching the live broadcast was estimated at over 100,000 making BAMMA USA the most watched sports programming on the network. Replays continue to play on the BAMMA USA LiveStream channel, just follow the link on http://www.BammaUSA.com Friday, October 12, 2012 was announced as the date for Badbeat 7.
About BAMMA USA
BAMMA USA is a Mixed Martial Arts (MMA) promotional company specializing in creating live entertainment featuring both professional and amateur combatants. Currently stationed out of Southern California, BAMMA USA promotes the area's top local talent from mixed martial arts gyms such as CSW, Knuckleheadz Boxing & MMA, Elite MMA, Kings MMA, PKG, Joker's MMA/Lightning MMA, The Bodyshop, Reign Training Center, Total MMA Studios, Ace Jiu-Jitsu, Cobra Kai, Gracie Morumbi, Cesar Gracie Jiu-Jitsu Academy, The Arena, Subfighter MMA, as well as many others. BAMMA USA is Southern California's leading mixed martial arts (MMA) organization providing the area with events monthly and opportunities to professional and amateur athletes.
Past and current fighters who have worked with BAMMA USA founder Brett Roberts include: Mike 'Joker' Guymon, Vladimir 'The Janitor' Matyushenko, Joseph 'Leonidas' Henle, Georgi Karakhanyan, Gabe 'Godzilla' Ruediger, Jason Lambert, Chad 'The Savage' George, Albert Rios, 'The Real Deal' Chris Beal, Jack 'The Outlaw' May, Jared 'The Jackhammer' Papazian, and more…
While the promotion prides themselves on their motto: "Keep Moving Forward" the ultimate passion for BAMMA USA is to create an environment in which fighters are truly valued.
Company Information Sources
http://www.BammaUSA.com
Twitter/@BammaUSA
Facebook/BammaUSA
Personal Contact Information
CEO
Brett Roberts
info(at)BammaUSA(dot)com
714.912.8822
About Livestream
Livestream is the market leader for live event coverage. With simple to use technology, our service allows anyone to broadcast live to the web, as well as being the top destination for live content from around the world. Our clients include Facebook, The New York Times, ABC News, CBS News, Associated Press, HBO, AT&T, PepsiCo, Electronic Arts, Adidas, The Academy Awards, Warner Bros. Records, and Paramount Pictures.
Livestream operates with over 120 full-time staff members in 4 offices—in New York (headquarters), Los Angeles, Bangalore, and the Ukraine. The service is available for free (advertising-supported) or as a feature-rich, monetizable, premium service for business.
The New Livestream is an innovative new platform that combines live video with real-time photos, text, and video clip updates. The technology supports live blogging all executed with ease using the real-time posting tools from both mobile and the web. Features on the New Livestream include an improved video player and an array of new tools that allow more people to discover your event, interact with it and share it across the web.
http://new.livestream.com