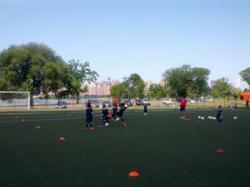 FC Barcelona Academy and Escola Coaches arrive in New York to train the American Youth and to look for the Next Lionel Messi
New York, NY (PRWEB) July 17, 2012
The first ever Official FC Barcelona Youth Soccer Camp in New York got underway on Randalls Islanad's Field 72 on Monday, July 16, 2012.
This 5 day camp offers the American Youth, some of whom have traveled from Texas and North Carolina, the training offered to the youth of Barcelona at the Club's Escola and Academy.
The FC Barcelona Escola and Academy coaches arrived in New York after a successful camp in Los Angeles.
The coaches are set to travel to San Antonio, Seattle, Portland, San Jose and Los Angeles in the next few weeks to bring FC Barcelona's values, training and methodology to the American youth.
This training is based in two basic ideas:
Teaching the players the basics of soccer so they can succesfully face up to the sporting challenges they might face in the future.
Transmitting the values that represent FC Barcelona: tolerance, respect, solidarity, comradeship, citizenship and integration.
The New York Camp is set to conclude on Friday, July 20, 2012 with a closing ceremony which includes awards and certificate presentation.
Although, in the past, other camps have illegally used the Club's name to attract unsuspecting participants, this is the only FC Barcelona officially licensed soccer camp in New York. FC Barcelona and its local partner's legal teams have recently served notices to these organization to cease and desist operation.
For more information, please visit the Club's official website or their camps' official website.