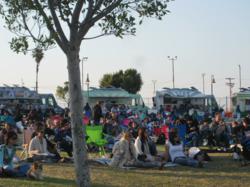 Los Angeles, CA (PRWEB) July 17, 2012
Eat|See|Hear presented by Fandango is co-produced by the former audio-visual producer of the acclaimed Outdoor Cinema Food Fest and launched in Santa Monica on May 26th 2012 showing the film Anchorman. Eat|See|Hear features the only three-story tall, outdoor HD movie screen west of the Mississippi featuring a 52-foot wide image. Gourmet food trucks and live music from the best of LA's burgeoning music scene round out each Saturday night creating the definitive Los Angeles summertime destination for movies, music, food and fun.
Eat|See|Hear makes its way to the North Hollywood Recreation Center on Saturday July 21st with the first of two stops in the San Fernando Valley, showing the movie Tommy Boy and local act Nightmare and the Cat performing. Food trucks that will be on site include Fatmobile, Ta-Bom, VCHOS, Yalla Truck, Philly Please and more. The next time Eat|See|Hear will be in the Valley is on September 8th in Northridge at Northridge City Little League showing Three Amigos. Next Saturday, July 28th, the event returns to the west side to Brentwood's Paul Revere Middle School showing The Princess Bride with local band State to State performing.
Every Saturday radio partner The World Famous KROQ will give away Oogie's Gourmet Popcorn to anyone that either downloads the Fandango mobile phone app or shows that they have one on their phone. Fans that follow the various food trucks coming out to each event on Twitter will have a variety of chances to win passes to different screenings throughout the season.
Eat|See|Hear offers an alternative to the popular Hollywood Forever Cemetery Screenings without the long lines, plenty of room to spread out with your friends, dogs welcome and free parking at most locations.
Doors open at 5:30 with live music at 7pm and the film screening at 8:30pm.
General Admission Passes are $10
$20 Fashionably Late Passes provide a premium, reserved seating area in a prime location of the venue with a dedicated line entrance.
Join Eat|See|Hear and more than 4,300 online fans on Facebook or Twitter for the latest news and updates.