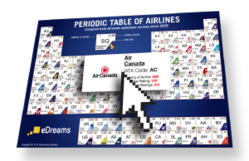 with these rankings we can help customers choose the airline that best suits their budget and preferences
London (PRWEB) July 17, 2012
One of the leading online travel agencies in Europe, eDreams http://www.edreams.com, has just published the Periodic Table of the Airlines, an interactive ranking of the top 100 airlines based on the company's customer reviews worldwide. In the top three positions are two Asian and one Swiss airline: Singapore Airlines, Thai Airways and Darwin Airlines.
eDreams has developed the Periodic Table of the Airlines from customer reviews collected since 2009 as a way of indentifying the best airlines and of sharing this information with their customers to help them make informed choices. The interactive graphic is inspired by the periodic table of elements and shows the ranking position, airline name, logo, country of origin, IATA code and average price per mile for each airline.
According to eDream's chief marketing officer Mauricio Prieto, "Although the price is a key factor in choosing one flight or another, especially in the current economic situation, it is not the determining one, as some elements such as quality of service or timeliness often influence decisions." Prieto adds that "with these rankings we can help customers choose the airline that best suits their budget and preferences by revealing the experiences of other passengers."
Asian airlines monopolize the top ten rankings, with ratings between 4.49 points out of 5 given to Singapore Airlines, and 4.26 for Turkish Airlines. Between these we find Switzerland's Darwin Airlines, Thailand's Thai Airways and Bangkok Airways, Austria's NIKI, the UAE's Emirates and Etihad Airways, Qatar's Qatar Airways and Greece's Aegean Airlines.
About eDreams
eDreams is one of the leading online travel agencies in Europe. The company offers its services in Spain, Italy, France, Portugal, Germany, United Kingdom, Australia, Brazil, Canada, Mexico, Chile, India, Peru, Venezuela, Argentina, Colombia, Switzerland, Turkey, USA., Singapore, Arab Emirates, Hong Kong, South Africa, New Zealand, Indonesia, Philippines, Egypt, Morocco, Thailand and the global market in English. eDreams hhas recorded one of the highest growth rates in the European market for online travel. The company has a wide selection of flights, hotels, flights+hotels and other products, and are available for its clients through booking engines that integrate the latest prices and search technologies.