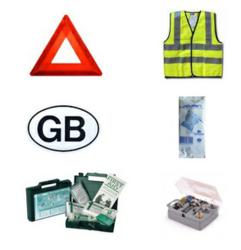 6 out of 10 don't realise that legislation has changed
(PRWEB UK) 18 July 2012
Thousands of British tourists risk breaking new driving laws in France by buying driving kits which do not come with breathalyser kits. Since 1st July 2012, it has become compulsory to carry a single use breathalyser in all motorised vehicles. These changes to French laws are part of a strategy to curb drink driving, as nearly 30% of road deaths in France are alcohol related.
Those thinking of driving to France should check that their kit complies with French regulations and includes:
at least one handheld breathalyser
a first aid kit
a fire extinguisher
spare headlamp light bulbs
a high visibility vest
a hazard triangle
Those who fail to carry a breathalyser as part of this kit will be given an on-the-spot fine.
French police are enforcing this law by carrying out arbitrary checks on those entering the country on ferries and through the Channel Tunnel.
Despite this law being approved back in March 2011, many online retailers of French driving kits have yet to update their products with a breathalyser.
A spokesman for Firemart explained: "Every year thousands of British people visit France and 6 out of 10 of these don't realise that legislation has recently changed. It's important that we raise awareness of these changes to French driving legislation so that people can check they have the correct kits before they arrive in France.''
Brits are also being warned about stringent laws on the use of sat-navs which detect speed cameras and lasers – known as "détecteurs" in France- with fines of €1500 for anyone who is found with this type of GPS system. Possession of such a device, whether in use, or just stored in the car, is a fineable offence.
Firemart's new French driving kits are available from their website at http://www.firemart.co.uk and are priced at £36 including VAT.