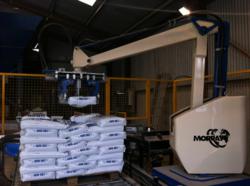 Derbyshire Aggregates shrinkwrap their rock salt to add protection.
(PRWEB UK) 18 July 2012
Last year in July 2011 Derbyshire Aggregates were packing salt for the forthcoming winter period and loads of rock salt was going out to stockists preparing for another winter. August and September were particularly busy and overall the season was good despite a relatively short spell of bad weather. Everybody got salt when they needed it with much better delivery and planning. However the season did not suit all rock salt suppliers with some importers having forward orders that couldn't be stopped and were not needed and with the early finish of the bad weather this has resulted in stocks of salt around the country, higher than previous years.
One point to note is that old salt stocks that have been stored out in the open will have a less effective nature and bagged stocks can also easily deteriorate when left outside for a year. Unless the salt is packed in a specially formulated bag designed to withstand the weathering and sunlight damage. Derbyshire Aggregates shrinkwrap their rock salt to add protection.
Although there appears to be plenty of salt around this is preventing early planning and forward ordering. No one wants to fall into the trap of two years ago when the weather caught out everyone. The reactions to snow and ice were too little too late. The rock salt production and packing has to be started very early on to ensure quantity and continuity.
Two Derbyshire Aggregates Directors are due to visit the salt mines in Cheshire later in July to see the massive underground workings and new equipment installed in the rock salt mine. This increases our UK production which reduces the reliance on imported salt and will be an improvement on the supply to councils and packers alike. Hopeful a normal winter will be adequately covered, however with the unpredictable weather we have had its sensible to plan for the possibility of a hard season this year.
The weathermen don't know why the jet stream is constantly lying south of its normal position and bringing in low pressures with unprecedented rainfall. Just think what it might do if the pattern follows through November onwards and a winter of below average temperatures and above average rain and snow. Salt stocks would disappear in a matter of weeks. Currently salt deliveries are on special offer as last year for July/August for those that have the space and can plan their business needs early with good savings on the normal market prices.