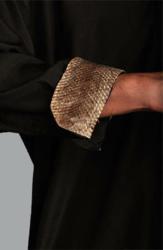 The standout is the Pythos shirt with REAL python skin gracing the cuffs.
Los Angeles, California (PRWEB) July 18, 2012
http://www.youtube.com/watch?v=94rtLjbhRxc&feature=plcp
Creative gritty film promo launches RMK CLOTHiNG 2012 Engine Summer Collection at Karmaloop.com. Featuring bobber bikes, babes, native prints, snakeskin and magic. Vroooom!
RMK Clothing™ announces the launch of the brand's 2012 "Engine Summer" menswear collection available at Karmaloop.com. The line is featured at Karma Kazbah, Karmaloop.com's global underground marketplace specializing in independent fashion labels.
See it here: http://ow.ly/b59U7
RMK Clothing™ by Ryan Marc Katz is a reinterpretation of the classic Americana lifestyle for the modern man. Passion for timeless attire and automobiles from a monumental era are kept alive by fusing progressive design, art, materials and function for unrivaled swag and comfort. Envision contemporary sportswear harmonized with urban, modern art and active wear details.
"Having been raised near the beach in Southern California & South Africa there was always a presence of luxury, grit and active wear. Through RMK Clothing™, I fuse them together and make effortless garments", shares RMK Clothing™ founder Ryan Marc Katz.
What is summer without fresh polo's and tanks for the day; and fresh breathable button-downs after dark?! Slip on the Natiiv tank top, with Navajo fabric fused under the classic cotton, and the heat is on! No branding, just chief style. Button-down cuffs really shine in this collection. The Masii shirt features real wood buttons and Navajo fabric cuffs. The standout is the Pythos shirt with REAL python skin gracing the cuffs.
The vision is quality pieces built for comfort with refined designer details. This collection is the start of something epic.