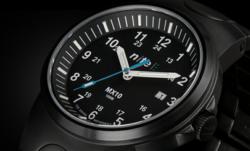 A tough watch is a key component for navigation, you can quickly see how long you've been out, and how long you've got to reach your destination. In fact, a watch can also be used as a basic compass in emergency situations."
(PRWEB UK) 19 July 2012
The summer of 2012 has so far seen some of the wettest weather in living memory. Above average rainfall has dominated headlines, and sporting events with cancellations and rain delays across the country. For team sports that rely on pristine grounds, a washout is predicted for competitors and spectators alike, but for those who prefer the great outdoors the weather is set to only add to the sense of adventure.
The British countryside can provide some of the most challenging and scenic terrain for outdoor adventurers and sports enthusiasts whatever the weather. However, for walkers, bikers and trail runners preparation is key in avoiding the downsides that the rain, and the mud, can bring. The correct kit including breathable waterproofs, gloves, headgear, waterproof footwear and an outdoor watch can be the difference between enduring and enjoying the testing conditions.
In higher climes, wet weather can sweep in more quickly bringing an extra dimension to navigation. Rain, mist and fog can obscure visual reference points enforcing an increased reliance on sat nav technology or more traditional mapping methods.
Roger Green, founder of Nite Watches commented: "A tough watch is a key component for navigation, you can quickly see how long you've been out, and how long you've got to reach your destination. In fact, a watch can also be used as a basic compass in emergency situations."
"In testing conditions it's essential to have a watch that can withstand all that nature can throw at it. For example, our original military watch the MX10 is NATO approved and designed to be worn in the harshest of environments – it's perfect for the outdoor adventurer. The great British countryside is still there whatever the weather – get out there!"
Nite is a renowned British watch brand and manufacturer of well designed sports watches for use by people who require and insist on precision time-keeping, no matter what the conditions. All Nite watches feature self-powered lighting (GTLS), making them highly visible and ideal for tough, dangerous and demanding environments.