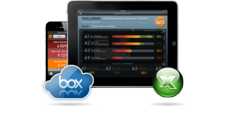 Do you really need Big Data for better decision making? Or just relevant data?
San Francisco, CA (PRWEB) July 18, 2012
Andara, the cool dashboards company, announced the launch of the most collaborative and powerful tool for increasing the productivity of SMB's.
It's a mobile performance management app for iPad that offers an eagle-view of business performance through intuitive, simple and collaborative dashboards that display only relevant information.
It has no set-up costs, with a pre-built template marketplace by roles and by industries to improve the decision making process and eliminates costly implementations and lets companies stay always connected with their cloud document management accounts and synchronized with excel.
The vision of andara is to democratize the use of BI in all companies, including SMBs, because all have the same objectives: manage growth and profitability.
Last year launched our first app "Bsc-i" with a great success, more than 50,000 customers in 90 countries and an analyst recognition by Gartner: "One of the Performance Management apps in the Emerging Technology of Mobile BI"
Business Intelligence can be cool, as a game, to increase productivity and get more engagement.
To discover the revolution, visit and download free the app: http://www.andara.bi/