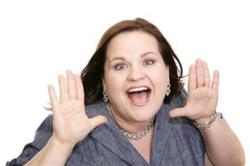 It's all about keeping it real.
London, UK (PRWEB UK) 18 July 2012
Plus size models are wanted more now than ever before, say UK Model Agencies. 'It's all about keeping it real.'
The UK's biggest online directory of model agencies can see a pattern that plus size models are in demand, as the team behind the winning website of all things modelling report the trend for larger models required. 'It's about companies wanting to cater for real looking women and men, says Jim Dawson, Chief Press Officer for UKMA. As the average size for a female in the UK now reaching a size 14, UKMA have seen plus size modelling really becoming a booming business in recent months.
'Our model agencies tell us that companies promoting their clothing for the high Street are always on the lookout for slightly larger models for the catwalk shows,' explains Jim. 'They need models who represent the general public, because they have to wear clothing made for the general public.' He goes on to explain that there are so many different types of modelling jobs to choose from for any aspiring models starting out in the industry, but lots of men and women don't consider themselves suitable for modelling, thinking they are too big. 'This is simply not the case in this day and age,' he says. 'It's a different industry altogether from recent decades, although don't get us wrong, there are still the strict height, weight, and shape rules and regulations behind catwalk and fashion modelling. The differences are now that there are other types of models needed to sell products for the modern generation.'
The UK's largest list of model agents all in one place would advise anyone who feels they would fall into the category of a plus size model, to maybe think seriously about taking up modelling as possibly part of a new career option, or perhaps taking it on part time and balancing it with a 'proper job'.
'Size doesn't mean shame,' says Helen Stark, fashion editor for UKMA. 'Men and women are certainly getting bigger and the fashion industry has recognised this and know they now need to represent men and women of bigger stature.' She goes on to say, 'now has never been a better time for those who have got the swagger and the look, to consider going into modelling, even if they are a size 20. With more and more fashion outlets opening to cater for larger sizes, models are needed to sell the clothing in the fashion shows in the first place, but also for the hundreds of plus size catalogues that are sold on behalf of plus size clothing companies.'
There are so many ranges of clothing to suit different body types, and UKMA know with first-hand experience that there is a new demand in the casting jobs for plus size models. They inform all the models on their books of impending modelling jobs which is just another service the model website company provides. 'Fill out the form today on our website and provide your details, if you would like any type of model advice,' says Helen. 'This is what we are here for and we can also enter you into the chance to win a free modelling portfolio with our sister company, La Mode London.'
For all the latest up-to-date model advice and information, visit http://www.ukmodelagencies.co.uk.