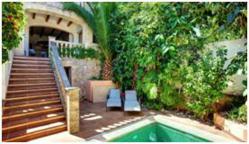 Our members save an average of $3,487 per vacation, allowing them to spend more time enjoying themselves and less time worrying about finances!
Brighton, UK (PRWEB) July 18, 2012
With the school summer vacation fast approaching, families across the States are looking forward to spending some quality time together. In the past, those who haven't planned ahead have paid inflated prices – but with Love Home Swap's new 'late availability' feature last-minute doesn't have to cost a fortune.
The Huffington Post recently reported that the 'average' American vacation now lasts just 4.3 days. This coupled with concerns about money and work has resulted in many US travelers leaving off booking their vacation until the last minute. Now, international property swap website Love Home Swap have launched a feature to make it easier for late bookers to find gorgeous summer holidays within reach – and within budget.
The new 'late availability' feature enables members to search for properties that are available for swapping at short notice. They can also display the 'late availability' icon on their property's profile so other searchers can identify the property as being available. This new search feature is now functioning on both the Love Home Swap Facebook app and the company website.
Home swapping holidays are revolutionising the way people travel, with swappers from all over the world joining in the trend. With thousands of inspiring homes listed in more than 95 countries, Love Home Swap members can save themselves thousands on travel accommodation and holiday like an insider.
Founder Debbie Wosskow says that home swapping is the stylish new way to take a vacation without breaking the bank. "Our members save an average of $3,487 per vacation, allowing them to spend more time enjoying themselves and less time worrying about finances!"
From a country house swap in Italy to a city apartment in San Francisco, a staycation to a worldwide vacation, property exchanges are a flexible way to allow families, couples and singles to save big on accommodation without compromising on standards.
According to Debbie, the beauty of home swapping is that there are no set rules. "All you need to do is jump online at lovehomeswap.com to list your home and check out the properties that fit your destination and accommodation needs.
"You can liaise directly with other property owners to organize a swap, and likewise, you'll be contacted by other people who want to swap with you. Before you know it you'll be on your way to your dream destination with credit card intact!"
About Love Home Swap
Love Home Swap is the stylish home swap holiday service, with thousands of inspiring properties listed in over 95 countries worldwide, from London lofts to Swiss ski chalets, Californian condos to Balinese beach retreats:

Members save an average of $3,487 per home swap;
Love Home Swap is the world's most socially connected home exchange site – with LinkedIn Connect and a unique Facebook app allowing you to find swaps from within your wider social network;
Following an initial 4-week free trial membership, Love Home Swap costs $159 a year for standard membership for an unlimited number of swaps. Or $299 a year for Luxe membership that includes access to a dedicated Swap-finding team and 5-star Concierge when you travel.