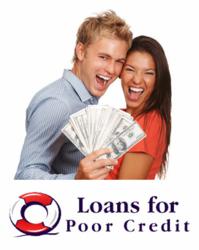 The website recently launched its one-hour approval service and has been pleased with customer response and feedback to its matching service for online personal loans.
(PRWEB) July 18, 2012
LoansForPoorCredit.net, the leading loan introduction service, has shared some advice for customers to help them back from the brink of poor credit.
The platform recently launched its one-hour approval service and has been pleased with customer response and feedback. Its matching service for online personal loan companies is straightforward and easy - following completion of a short application form on the LoansForPoorCredit website, a panel of dedicated lenders can give fast approval for loan funds to be paid directly into a checking account within 60 short minutes.
In addition to this, LoansForPoorCredit.net has decided to offer some guidance as an extra helping hand to all individuals that are experiencing difficulties with obtaining short term loans because of bad credit.
A spokesperson for LoansForPoorCredit.net made the announcement.
"LoansForPoorCredit has decided to utilize its position as an independent, non-partisan loan introduction company to full effect. Because we are not lenders, we can focus firming on helping individuals and households with their financial problems."
"In the more immediate term, this means giving them access to some of the most reputable and well established adverse credit lenders in the U.S through our website. These companies have a range of interest rates and loan options that are created especially to help our customers. We've all taken a few knocks during the recession, and LoansForPoorCredit and its network of lenders are more understanding than most."
He continued, "We can help would-be borrowers connect with the right lenders to help them obtain bad credit loans immediately. But ultimately, the longer-term goal of LoansForPoorCredit is to help customers' finances well on the road to recovery. The most effective way to do this is by taking actionable, practical steps to improving their credit scores. Following our guidance is the first step."
LoansForPoorCredit.net suggests that individuals can take steps to improve their credit score by:
AVOID CREDIT CHECKS: During the "repair period," avoid applying for any services that insist on a credit check. Scoring low can cause more trouble in the long term with obtaining preferential credit terms. LoansForPoorCredit.net does not use credit checking as any part of its online application process and therefore avoids exposing customers to further low credit scoring.
APPLY FOR A CREDIT CARD: Applying for a prepaid credit card is a great way to show credit reference agencies that personal finances are on the mend. Take a look at our website, fill in our short form and let us highlight which companies can offer a credit card.
LOOK FOR CHEAPEST WAY TO BORROW – Once a borrower has applied for a personal loan from LoansForPoorCredit.net and are approved, there is no obligation to accept. If a customer does not like what they are offered, they are welcome to can apply again with no pressure. The aim is to try to get the best borrowing rate possible. The LoansForPoorCredit.net network of lenders increases on a weekly basis, so check back and apply again. Each application is free and confidential, so there is nothing to lose.
To find out more and to apply, go to http://www.LoansForPoorCredit.net