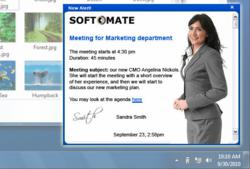 Superior internal communications create an employee awareness
Alexandria, VA (PRWEB) July 18, 2012
DeskAlerts, has released a new version of their alert software, creating a truly optimal solution for internal communications within larger businesses and enterprises alike.
The newest release, DeskAlerts 4.3.6, now includes a command line API tool. This tool allows companies to integrate the already powerful DeskAlerts Server with any existing corporate infrastructure to trigger alerts and improve internal communications in a real-time, automated process that streamlines a company's productivity.
Desktop Alert Software is an entirely web-based solution to send text, pdf documents, graphics, flash presentations and more. When documents are sent, alerts are sent in real-time and any document can be viewed immediately, there is no need to open applications or programs that the user may not be working with at the time. With this feature, an administrator can set up alerts to be triggered by external systems such as Exchange, Sharepoint, and Dynamics.
DeskAlerts can be set up within minutes and requires no further training for recipients. Message receipts ensure that every alert is received and opened. Recipients can be selected using an Active Directory or specific organizational units, groups, and users. It is possible to send alerts via video and audio, and it gives any manger the ability to communicate and provide feedback in an organization faster than other methods. Superior internal communications create an employee awareness that is increased substantially with the use of Desktop alerts. The API tool allows for a completely seamless and effective means of communications within an infrastructure.
Desktop Alerts provides the best in streamlined functioning for any company that desires to make the most of it's internal communications.