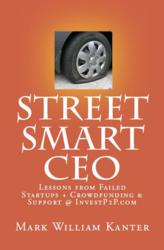 InvestP2P.com is a game changer in the crowdfunding space. It's inevitable it will be scooped up by a 300 lb gorilla. I'd say by September the latest.
San Diego, CA (PRWEB) July 17, 2012
In his new book, "Street Smart CEO", Mr. Kanter describes the lessons he's learned from starting numerous businesses that failed. A major theme and solution to almost all the problems he encountered along his journey leads the reader to explore the huge potentials found at crowdfunding sites such as InvestP2P(aka peer to peer lending or P2P Lending for short)
With the JOBS Act recently enacted, there's no doubt crowdfunding is here to stay and its what America needs more than anything right now to get the Job Engine happening again. Startups are the lifeblood of job creation in America.
In addition to the crowdfunding power offered at InvestP2P, there's also a cost effective Job Board on the site. That's very interesting because if you have 500,000+ new businesses a year seeking crowdfunding at InvestP2P and its white labeled partners, many of those companies are probably going to hire workers real soon. "Job Postings is how CraigsList makes a ton of money. It's funny though" says Mr. Kanter. "I just saw a news release that Facebook is planning to add a job board on their platform" I imagine they could just scoop up InvestP2P and get 2 things for the price of one: a crowdfunding portal aimed at fixing America and a Job board they want. And I think it makes more sense to have the job board located where the startup companies eyeballs are. I wonder if InvestP2P spells the end of sites like Monster.com and Careerbuilder.com too"
InvestP2P has loads of social networking tools built in, such that Investors get to talk directly to the CEOs and interact with all other investors on the same loan made to that CEO. Plus investors can easily help promote each business they invest in via Job Creation Badge Widgets they can put on their blogs, email signatures, Facebook shares etc, The Job Creation widget scrolls through the list of companies they invested in while bragging about the jobs they are helping create in America.
"In the crowdfunding space, it's a race to market", says Mr.Kanter, "This is where I think InvestP2P has a serious advantage for someone looking to own the crowdfunding space because other crowdfunding wannabes are waiting for the SEC to enact rules ordered by the JOBS Act before they can open their doors. Many are just starting to build their web applications now, whereas InvestP2P is built, tested and ready to go and it does not need to wait the 270 days Obama gave them." Instead InvestP2P is going through the regular channels that Lending Club and Prosper went through with the SEC. InvestP2P's S1 was filed a while ago and they expect SEC approval between 30 and 60 days.
"If InvestP2P isn't super ripe for the picking, then I don't know what is. If I were to wager, I'd say Google will be first to see the golden opportunity and act fast. Facebook is new to the acquisition market whereas Google has been there, done that. Plus, I remember when Apple scooped up the 10 cent a song webplay music site LALA just as Google started hyping it a few years ago. Then Apple shut it down shortly after. Man was I pissed, it was good for the country and I loved that site. I don't think Google wants to let that happen again," says Kanter. "So here's another opportunity that's good for the country and I'm sure Google will see the goodwill it will bring to Google's image. I think they will act first and not let it get stolen from under them again. I don't know how much negotiation talent is at Facebook, so I doubt they will be able to steal it out from under Google if Google goes after InvestP2P."
Whether InvestP2P gets bought by Google, Facebook, a Venture Capital Fund or it just continues to grow organically, either way its a boon for the American economy and I look forward to a very prosperous America again real soon with job growth going through the roof. Great times are in store for America once again. I am proud of our country, America knows how to bounce back with its never-say-die entrepreneurial spirit and sites like InvestP2P.com.
Mr Kanter is the author of the newly released business intelligence book Street Smart CEO, Lessons Learned from Failed Startups + Crowdfunding & Support @ InvestP2P.com found on Amazon, Kindle, CreateSpace and Smashwords
Inquiries about InvestP2P acquisition, partnering or other deals may be directed to (866) 936-3856 Ext. 101