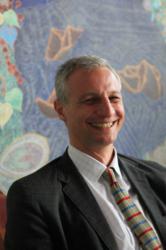 Dr. di Leo's strong academic credentials and proven managerial track record at the IES Abroad center in Rome are the perfect combination to launch our programs in Rio de Janeiro
Chicago, IL (PRWEB) July 17, 2012
IES Abroad, a consortium of 200 major U.S. colleges and universities, has appointed Octavio di Leo, PhD, as the organization's first Center Director for its new academic study abroad program in Rio de Janeiro, Brazil.
The IES Abroad Study Brazil Program starts in Spring 2013 and features the country's rich history and culture, academic courses at prestigious local universities, and the opportunity for students to live and learn in one of the world's foremost cities.
Students can now submit applications and take advantage of a wide range of courses taught in English and Portuguese. The study of Brazilian art, music, culture, economics, environmental science and urban studies are included in the extensive list of course offerings. Field trips to the Amazon and other areas of historical and cultural interest will be available, as well as internship and service learning opportunities.
Currently the Center Director in Rome, Dr. di Leo has been with IES Abroad since 2003 when he became the academic dean at IES Abroad Barcelona. Originally from Buenos Aires, Dr. di Leo earned his B.A. in Comparative Literature at the University of Buenos Aires. He lived and studied Portuguese in Brazil for one year and later moved to New Haven to earn an MA and M. Phil in Latin American Literature from Yale University.
In 2000, Octavio earned his Ph.D. from Yale University with a dissertation on oral narrative in the African Diaspora, "El descubrimiento de Africa en Cuba y Brasil (1889-1969)", published by Editorial Colibri in Spain.
In his earlier career, Dr. di Leo was an anchorman for a Spanish language news program on Deutsche Welle TV in Berlin and a translator and journalist in Barcelona. He has taught at Yale University, the Free University of Berlin, the Technological University of Berlin, and the University of Buenos Aires. Octavio's articles have appeared in academic journals in Brazil, Cuba, Spain, Mexico and the United States.
As Center Director, Dr. di Leo will lead all aspects of the IES Abroad program in Brazil, with responsibility for academic programming, field trips, student services, housing and more.
"We are delighted that Dr. di Leo will lead our first study abroad Center in Brazil. His strong academic credentials and proven managerial track record at our center in Rome are the perfect combination to launch our programs in Rio de Janeiro," said Dr. Michael Steinberg, Executive Vice President of Academic Programs at IES Abroad. "Octavio is one of IES Abroad's most beloved professionals and he is well known and respected in the field of international education."
About IES Abroad
IES Abroad, which celebrates its 62nd anniversary in 2012, is a global, not-for-profit academic consortium of more than 200 top-tier American colleges and universities. IES Abroad offers more than 100 programs at 35 international locations in Africa, Asia, Australia, Europe, New Zealand and South America. More than 5,700 students enroll in IES Abroad programs each year. For more information, please visit http://www.IESAbroad.org
IES Abroad has received the prestigious Quality Improvement Program (QUIP) designation from The Forum on Education Abroad for meeting the highest standards in the nation for study abroad programming and evaluation.