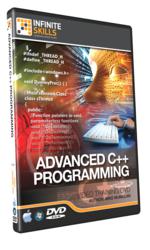 Advanced your C++ Programming Skills
(PRWEB) July 19, 2012
Software training developer InfiniteSkills Inc has released its new Advanced C++ Tutorial Video course, a followup to its successful C++ training course for beginners designed to explore extended concepts and best practices for software development.
The C++ tutorial course looks primarily at critical concepts for object-oriented programming (OOP) that help expand a beginning coder's competency with the language, such as inheritance and polymorphism. The course also looks at different types of classes, containers and sorting methods that equip viewers to solve specific problems through code.
Advanced C++ Tutorial Video - Training Course on DVD-ROM
Specific C++ tutorials bundled in the training course include Virtual Functions, Managing Stream Input and Output, Sequential Containers, Associative Containers, Iterators, Linked Lists, Linear and Binary Search Algorithms and Namespaces. At the end of each major chapter, the course includes walkthrough coding exercises that directly demonstrate the relevant theory being discussed. Files and code snippets are included with the training that allow users at all skill levels to follow the examples featured onscreen.
"After our C++ beginners course, we've had a lot of customers requesting even more," said Colin Boyd, sales director for InfiniteSkills. "Because Mike has taught the language at multiple levels in the college classroom, it was really an easy decision to bring intermediate and advanced C++ training online."
Course author Mike McMillan has over 30 years of experience in the field of software development. As a published textbook author and university professor, he has taught C++, Java, Python and C# and other languages and frameworks to students in the classroom and remotely. In addition to this latest training title, he has recorded six other training video courses for InfiniteSkills.
"It's not just our intention to get beginners started with basic skills, but to help people expand their knowledge base and reach even further wherever possible," Boyd said.
The Advanced C++ Tutorial Video can be ordered from the InfiniteSkills website for $99.95 USD. Formats available include a Windows and Macintosh-compatible DVD-ROM, or a direct download version that gives instant access to the full course. Purchasing options are available to customers worldwide.
http://www.infiniteskills.com/training/advanced-c-plus-plus-programming.html
In addition to the standalone video course, the Advanced C++ training lessons are also offered in a bundled edition with the beginners course. The bundle can be purchased at a discounted price of $149.95 USD, featuring all 16.5 hours of content from both C++ video courses and serving as an extended reference for practice and review.
More information and free demo videos can be found on the C++ training page at the InfiniteSkills site:
Complete C++ Training Bundle - Beginners Through Advanced
http://www.infiniteskills.com/training/c-plus-plus-programming-bundle.html
About InfiniteSkills Inc
InfiniteSkills is an innovator in the field of technology software training. The firm's progressive approach teaches complex topics by focusing on task-oriented training.This allows users to intuitively grasp a wide range of skills they can seamlessly integrate into their daily workflow. With DVDs, digital downloads, and iPad editions of its training titles, the company delivers professional quality training to customers anywhere they want to learn.