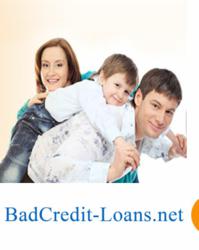 On our website, you can apply for a free, no-obligation quote and receive an immediate response from our network of lenders.
(PRWEB) July 18, 2012
Badcredit-loans.net is a new loan aggregator service connecting individuals to the right lenders for bad credit loans. It has announced the launch of its service at a time when a report by Experian reveals the number of people with poor credit scores totals more than 40 million and rising. This represents a significant portion of the 220 million Americans who have credit files, indicating that poor credit is steadily on the increase in the United States.
As a companion to the convenient and easy-to-navigate online application on the Badcredit-loans.net website, the platform has also shared some pointed advice on applying for bad credit loans.
A spokesperson for the Badcredit-loans.net website made the announcement.
"Badcredit-loans.net announces its service to help people in need of loans find them fast and without unnecessary add-ons like credit checking and embarrassing questions. On our website, you can apply for a free, no-obligation quote and receive an immediate response from our network of lenders. All a prospective borrower needs to do, is select the type of loan they need and input some simple details. We realize that there is no such thing as a "one size fits all" loan, and this is why we have provided some useful tips to help customers maximize their borrowing whilst minimizing the cost. The interest rates and borrowing terms of loans for individuals with less than strong finances can vary wildly from lender to lender. We can bring together a number of quotes from a range of lenders for you to decide between, while offering some canny hints to help you make the best decisions."
The wise words from Badcredit-loans.net include the following:
1) Look for deals that are catered specifically to your category: Are you a student? Is your need for a loan for business purposes? How about a car or house down-payment? If you can take a moment to be selective with the aggregator platform you chose, half of the work is done for you in searching for the lowest rates available. Different rates are offered for people who are students versus those who are in full-time employment. On the Badcredit-loans.net website, you can choose the type of loan form a dropdown menu, ensuring that the loan possibilities that are fielded to you are specific to your situation.
2) Concentrate on getting instant quotes and immediate approval: Time is of the essence when trying to secure a bad credit loan with an interest rate that works for you. Do not waste time with loan matching services that cannot give you instant responses, or you might miss out. Badcredit-loans.net has a live application form that is able to retrieve real-time loan information from lenders as soon as you complete the 3-minute application form and click send. Approval can occur there and then, with the money to follow within a couple of hours.
To apply, go to http://www.Badcredit-loans.net.