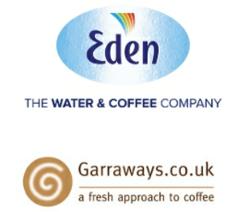 It demonstrates our serious intention to dominate the workplace drinks market by extending our offer to a range of hot beverages, primarily coffee.
(PRWEB UK) 18 July 2012
Eden Springs, the leading workplace drinks provider, continues to roll-out its hot beverage offering across Europe with the acquisition of Garraways, the UK coffee solutions business. This is Eden's second UK coffee company acquisition in less than 12 months, signaling the clear intention of the business to dominate the burgeoning workplace beverage and coffee machine market.
Following the acquisition of Shakespeare Coffee in August 2011, Eden's latest purchase will bring the company's UK hot beverage business to over €12m of sales and will add a further 5,000 organisations and offices to the existing UK client base.
Garraways is based in Bolton, Lancashire and boasts an impressive portfolio of both public and private sector customers including HM Prisons, the Ministry of Defence, Imperial College London, the BBC, the AA, Audi and Land Rover. Garraways enjoys a long standing historic heritage, and is highly regarded for its quality service levels, providing its own blend of coffee beans via its in-house facilities. Its key sectors include the small office/home office market; the public sector, owner-managed businesses, large corporates as well as hotels, restaurants and cafes.
Raanan Zilberman, CEO of Eden Springs, comments: "Garraways is an exciting acquisition for us as it has a unique mix of corporate and HORECA clients, which provides us with a excellent opportunity to expand our product offering to the consumer. It demonstrates our serious intention and plan to dominate the workplace drinks market by extending our offer to include both water and a range of hot beverages, primarily coffee, across our 15 European markets.
"The acquisition is part of our long-term strategy that will see our continued development in the strong and profitable water business, whilst expanding into the large and growing coffee segment. This, we are already bringing into reality via a mixture of acquisition and 'greenfield' activity, through which we are also starting to offer our own unique coffee solutions."
Eden's UK operations are headquartered in Blantyre, Scotland.
Ends
For further information please contact St John White or Gemma Shryane at Prova PR on 01926 776 900. Email: stjohnw(at)provapr(dot)co(dot)uk or gemmas(at)provapr(dot)co(dot)uk
Notes to Editors
About Eden Springs Group
Eden Springs is Europe's leading provider of drinking water solutions for the workplace, offering a broad range of bottle-fed water coolers, plumbed-in water coolers, PET bottles and Office Coffee Services. The company established its European presence in 1997 and, in less than eight years, became the leading brand for water coolers, with the widest geographical coverage in Europe's water cooler industry. With a network of branches and water sources across 15 countries, Eden Springs bottles and distributes more than 430 million litres of water annually and services more than 650,000 clients. Headquartered in Switzerland, Eden Springs has 2,300 employees. http://www.edensprings.com
Facts and Figures about Eden Springs Group
Turnover: 250 million euros
More than 900 service vehicles
23 million 5G bottles sold annually
650,000 clients
Presence in 15 countries
2,300 employees
26 sources of mineral water
120 branches