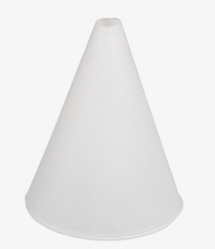 Miami, FL (PRWEB) July 18, 2012
Konie Cups, a manufacturer of disposable paper cups based in South Florida, recently debuted their new disposable funnel cup. The funnel cup is available in a few different sizes including four ounces, six ounces and ten ounces. Like all of Konie Cups' products, the funnel cup is made of a sturdy coated paper with a tightly sealed seam to help prevent leaks. The Konie funnel cup is ideal for funneling liquids in a variety of settings.
The four and six ounce Konie funnel cup was designed to be used in the medical field and testing labs for precise measurement of samples. The diameter of its point measures one quarter of an inch to facilitate guiding sample liquids into their desired location. Additionally, Konie Cups has developed a ten ounce funnel cup for use in garages and auto body shops to allow for easy funneling of a quart of oil or any other auto related liquids. The ten ounce funnel cup is also perfect for use in industrial trades including in the manufacturing industry for tasks such as changing oil in larger machinery. Because the Konie funnel cup is disposable, technicians do not have to worry about having a dirty plastic funnel lying around the job site. The paper funnel cup is also great at helping to eliminate spills in the kitchen, as it is FDA approved like all other Konie products.
Konie Cups is dedicated to providing cost effective solutions with their single use paper cups that aim to prevent spills, cut contamination and control portioning.
About Konie Cups
Konie Cups International is a family owned and operated enterprise, dedicated to manufacturing single use conical paper cups for the food service, janitorial, industrial and healthcare marketplace. Konie Cups strives to build strong, long lasting commercial relationships with distributors, vendors and employees. Konie controls each step of the manufacturing process to ensure the highest quality products are delivered to every client.
Konie Cups is strategically positioned to serve the USA, Canada, the Caribbean, Mexico, Europe and Asia.