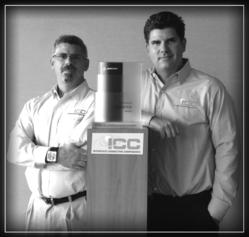 We are truly honored to receive such a distinguished award as the Boeing Performance Silver Excellence Award and privileged to have the opportunity to work with such a great company. - Scott Jacobs, President of ICC
Lumberton, NJ (PRWEB) July 18, 2012
Interstate Connecting Components, Inc. (ICC), a world-class distributor and value-added assembler of military and aerospace connectors and accessories, earns the highly prized Boeing Performance Silver Excellence Award.
"This is an exciting time for ICC. We are experiencing growth, but our dedication to quality and customer focus remains the same. We are truly honored to receive such a distinguished award as the Boeing Performance Silver Excellence Award and privileged to have the opportunity to work with such a great company," said Mr. Scott Jacobs, President of Interstate Connecting Components.
Boeing presents this award annually to those suppliers who have achieved superior performance in meeting Boeing's requirements. ICC is one of only 529 suppliers to achieve this level of recognition.
Interstate Connecting Components was founded in 1985. Since that time ICC has grown into one of the preeminent distributors of the entire spectrum of electronic and fiber optic connectors, connector accessories and tools, and interconnect contacts and termini. ICC is an authorized distributor for Amphenol, Glenair, Conesys, and many other best in class interconnect manufacturers. By focusing solely on the complex world of connectors, ICC is able to offer comprehensive design and application engineering resources and expertise to support its customers' technical requirements and provide quality interconnect solutions. T'DA!® Two-Day Assembly offers customers two-day turnaround on value-added connector assemblies, including MIL-DTL-5015, MIL-DTL-38999, MIL-DTL-26482, MIL-DTL-83723, MIL-PRF-28876, and MIL-DTL-28840.
Visit our website: http://www.connecticc.com if you'd like more information about this topic. To schedule an interview, please call Meghan Malone of Interstate Connecting Components, Inc., at (856) 813-5420 or email her at meghan.malone(at)connecticc(dot)com.