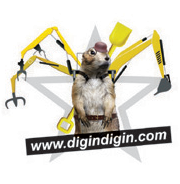 Montreal, Quebec (PRWEB) July 17, 2012
Digindigin.com an online web logo platform has just announced that it will be offering T-shirt design packages to its business as well as individual customers. This is specifically meant to help professional businesses be able to adequately make their products visible to potential customers. The services will be offered to interested customers at affordable rates that they are accustomed to. Digindigin.com continues to provide high quality design to customers for all walks of life at affordable rates. The online platform places a lot of emphasis on customer satisfaction and this has seen them become a major force to reckon with in the world of designs.
Digindigin. Com is a visible online web logo platform that continues to offer high quality T-shirt designs that meets the needs of business organizations as well as individuals. Companies can effectively use customized T-shirt designs complete with their own logos as a way of creating awareness for their products. All that individuals who are interested in T-shirt designs need to do is fill a clear order form from their online stores and talented designers will get to work on their orders. The online website has been experiencing a surge in its number of customers who require customized T-shirt design and this is the reason why they have designed to offer attractive packages in that regard.
What customers need to do is come up with a logo that they want placed on a T-shirt. Its online pool of talented designers will then contest and the winning designer will embark on creating a quality design meant to exceed the expectations of customers. Digindigin. Com has unique equipments and machinery which are used to create unique logos to the satisfaction of customers. Individuals can have their T-shirts designed in such a way that it corresponds to their wishes. The qualified pool of designers has been at the forefront of ensuring that customers get high quality designed at affordable prices.
Digindigin.com is dedicated to meeting customer expectations as far as T-shirt design is concerned. All that businesses or companies are expected to do is fill an order form from their site specifying the kind of logo that they want on the T-shirt. The talented designers that form digindigin.com online community will then come up with unique designs for the clients to choose from. Digindigin.com site has dedicated customer supports staffs that are online 24/7. The staff are meant to answer any queries that customers might have on T-shirt design as well as help them in making an informed decision.
Businesses and individuals who want more information on T-shirt design packages can do so by visiting the site http://www.digindigin.com/ . This is the home site of Digindigin.com where customers can get all the information about their services. The website is easy to navigate and contains information on the various web design, T-shirt design, as well as business card design packages.
All about digindigin.com
Digindigin.com is a crowd sourcing online web logo platform. The online site is popular for its popular logo design solutions to customers. Digindigin.com has an easy to navigate website where customers can get all the information that they need with ease. The site has an online community of talented designers who are committed towards providing customers with high quality services at affordable rates. Digindigin.com is a division of the 123inkcartridges.ca.