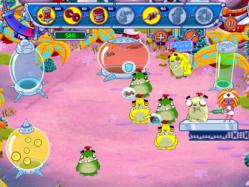 Enter a world where hungry monsters from a distant galaxy are in search of a new home.
Rio de Janeiro, Brasil (PRWEB) July 18, 2012
Who said that a casual game has to strictly follow the rules the word "Casual" implies? Yes, the main feature a player seeks in a game like this is indeed the fun factor, but not necessarily knowledge, and issues that can add value to the context of the game must be out.
This is what Greedy monsters, the game developed by the Brazilian game developer studio MTI Studio in a partnership with "Aqueles Caras" brings to us: The connection between the player and the most fundamental questions regarding our society, but in a very light way, humorous but challenging at the same time. The background is so rich that we had to catalog all the terms that the players will find within the game in the "Greedypedia".
Greedy was launched for iPhone and iPad on July 16 and later in the Google Play for Android devices. The game will have 30 sequential levels, and an array of characters and controls that will help the player's performance through the "In-App". For the game launch, a trial version will be available, and also the paid one, at the cost of $1.99.
THE GAME
The game starts when little hungry monsters, from a far-far away galaxy with very few resources sail in the search for a new home. The player's mission is to feed the monsters colony and grant them their survival.
Those little creatures will be tested very hard, almost everything will happen to them, starting with food shortage, epidemics, pests, problems caused by the hoarding of garbage, high in food prices, over population and other questions which are very common in our planet.
They are dead hungry, and they always want to eat more, and more! Greedy monsters requires quick thinking and a lot of focus. At any time a surprise can change the entirely route of your game. Have fun with the wishes of those monsters and make all of them come true. So then they will be able to re-establish their specie in this new planet.
Greedy monsters will not only grant a lot of fun, but it will also make the player think about very important questions regarding us (humans) survival, here on earth. This Is game for all ages and shows us how important sustainability is, but in a very simple way and of course, very humorous.
MAIN FEATURES

Rich background, with a lot of well-humored characters.
Retina display for iPad and iPhone 4
Brings to us the question about sustainability in a very simple and humorous way
Highly challenging, with situations that will stimulate the player
Very simple gameplay, You just need to grab the monsters and all the other in-game elements with your finger
Exclusive soundtrack and sound effects
CREDITS
Project Leader
Flávio Montanaro
Programming
Flávio Montanaro
Glauco Basílio
Christian Coate
Game Design
Flavio Montanaro
Game Art
Bernardo Prata
Julian Coate
Marcelo Azalim
Soundtrack
Bruno Cysne
Themes addressed in-game
Overpopulation
Overpopulation can compromise the future of next generations. This is the great challenge of this level, it has the largest amount of monsters, just to make it a little bit more exciting, the game already starts with lots of them.
Epidemic
Epidemics have always been a challenge for humanity, and in the Greedy World it's not different. Be quick, control the diseases and make sure that all monsters are healthy. The nurse Serina will be of great help in this level. Stay healthy.
Overweight population
The monsters love junk-food, and in this level their love for that is intensified, the overweight population starts to rise. The Personal trainer Gibb will help you out to put those little monsters where they should be.
Infestation (Swarm of plagues)
An array of pests will dominate the capsules, therefore compromising your food-supply, Call P. Buster and exterminate those pests; he'll help you to keep the Greedy World's survival.
Rise in food prices
The capsules are now overpriced, but the monsters are growing high in the colony. If you want to go ahead you've to control your cash very well. Try to spend as little as possible and watch out what increases your score's most.
Save the species
In this chaotic world, you'll have to face all the challenges at the same time: Over population, epidemic, over-weight, pests, garbage buildup and food shortage. Take a deep breath and ensure the survival of at least 1 monster. If you succeed, you'll win this great challenge.
ABOUT MTI
MTI Studio is a youthful studio from Rio de Janeiro, which develops games for portable devices and its expertise are the casual games (and its market). It was born from the passion of its founder, Flávio Montanaro and his partner Glauco Basílio, for games.
For several years, Flávio and Glauco were part of IT teams for large companies, such as Oi, IBM, Mantecorp and Brookfield. Today, they carry the commitment of turning MTI Studio well known world-wide.
The studio developed the games: ChemIQ, for the Californian Clef Software Inc, and Training Faces, for the also American Company Training With Gaming Inc. Most recently MTI is currently developing the game Baby Hood, for the Australian X-cite Agency, and plans to launch two more games beyond Greedy Monsters, they are: Save Boris and Samba Robots. The company also develops iPad applications for the British company Glaxo Smith Kline.
ADDITIONAL INFORMATION:
Flávio Montanaro – Phone: [55] (21) 9150-1717 / [55] (21) 2535-1231
contact(at)mtistudio(dot)com
http://www.mtistudio.com
Press Kit:
http://mtistudio.com/newsite/wp-content/uploads/2012/06/Press-Kit.zip