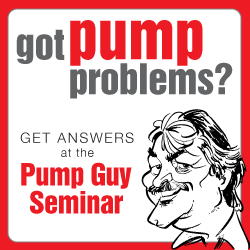 "For my line of work, this seminar was dead on. It met my needs fully. Best money my company has ever spent for a training course." - Pump Guy Seminar Attendee
Birmingham, Ala. (PRWEB) July 19, 2012
Flow Control magazine (http://www.FlowControlNetwork.com) will present the popular Pump Guy Seminar, Oct. 16-18, at the Crowne Plaza Irvine/Orange County Airport.
The Pump Guy Seminar is led by world-renowned pumping systems expert Larry ("The Pump Guy") Bachus. Author of the acclaimed textbook "Everything You Need to Know About Pumps" (included with the seminar), Bachus brings with him 30-plus years of experience working with industrial pumping systems.
This three-day training event is designed to provide process plant engineers, managers, technicians, operators, and others involved with pumping systems technical knowledge on industrial pump design, operation and maintenance. Attendees will return home from this seminar with a reliable pump and process piping system design strategy to improve plant production right away
Key topics covered during the Pump Guy Seminar include:
> Head vs. Pressure
> Absolute & Pressure Gauges
> NPSHr vs NPSHa
> Cavitation Causes & Prevention
> The Affinity Laws
> Flow & Head
> Efficiency Formula & Application
> Power Formula & Application
> Pump Classifications
> Suction-Specific Speed
> Pump Curves vs. System Curves
> Shaft Deflection
> Pump Motor Alignment
> Bearings
> Pump Packing
> Mechanical Seals
> Pump Piping
For a full course outline and registration information for the Pump Guy Seminar, please visit FlowControlNetwork.com/PumpGuy.
Flow Control Contact: If you have questions or need more information about the Pump Guy Seminar, please contact Matt Migliore at Matt(at)GrandViewMedia(dot)com or 610 828-1711.
About Flow Control Magazine
Flow Control magazine is the leading journal for fluid handling systems design, maintenance and operation professionals. It focuses exclusively on technologies and strategies for effectively measuring, controlling and containing liquids, gases and slurries. It aims to serve any industry where fluid handling is a requirement.
Flow Control magazine, Grand View Media Group, 200 Croft St., Suite 1, Birmingham, AL 35242, FlowControl(at)GrandViewMedia(dot)com, FlowControlNetwork.com
###