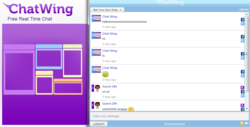 Houston, TX (PRWEB) July 19, 2012
Because of the rate of competition in the blogosphere, many bloggers are now succumbing to online attrition. This is based on the numbers of blogs becoming dormant everyday. To deal with this situation, the Chatwing team has recently launched a universal chat box aimed for the Wix community. Bloggers outside Wix can also use the chat tool to help them interact with their visitors in real time. Chatwing promises an efficient bridge of communication for thousands of its users far and wide.
One of Chatwing's key features is conversation control. With this, Chatwing chatbox owners can set their parameters, such as word filters and the opportunity to delete messages in one click. This is useful for bloggers who are dealing with sensitive topics such as conspiracies and world secrets. Some bloggers have also relied on this technique in order to balance out certain comments which can be harmful for the blog. The latest version of Chatwing can also accommodate 600 users in real time—that is why some entrepreneurs have used Chatwing as an immediate marketing tool.
Ever since the inception of Chatwing's free chat box, its developers were always keen on technical glitches and possible measures to take. One of their preventive measures is to introduce various upgrades and developments to the Chatwing platform. These upgrades were meant to remove the glitches and maintain the platform's speed. Adding to that, the dev team is also conducting maintenance checks to ensure that the influx of users will become as stable as possible.
Chatwing and its developers are always aiming for the betterment of blog communication. The dev team is always working hard to introduce the free chatbox to different online communities, especially to those where communication is highly needed. With this expansion plan, not only Wix users can benefit from the Chatwing chat widget, but also bloggers from different sectors specializing in certain niches.
About Chatwing.com
Chatwing.com has developed live chat software for websites and blogs. It caters to different online communities due to its high rate of connectivity. Everyone can create a customizable live free chat widget feature in 1 minute or less. Users have the ability to customize the size, color, and fonts of the chat product. The ability to chat via social media accounts such as Facebook and Twitter enable Chatwing to offer a personal and unique real-time experience to all sites. Chatwing is 100% free and very easy to use.