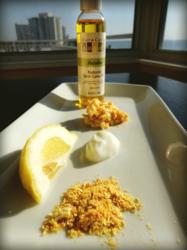 I honestly can't remember the last time my skin looked this good, and it's all natural!
Fort Lauderdale, FL (PRWEB) July 18, 2012
Essential Safe Products (ESP), an online shop dedicated to helping families build healthier lifestyles free from harmful chemicals, is sharing an easy recipe for a natural acne treatment that uses safe, non-toxic ingredients found at local natural food stores.
Finding the cure for acne is no easy task. A simple online search pulls up hundreds of theories and treatments that claim to work, but do they really? A visit to the dermatologist ends up with a prescription for oral pills or topical treatments made with chemicals. While some of the treatments can work, there are those who prefer to find a safer and less-toxic treatment for acne that is also effective, which is where ESP comes in to help.
"I've had acne since I was a teenager and have used everything from medicines prescribed by my dermatologist to over the counter drugstore creams and washes. Nothing I have used in the past has helped cure my acne, until I tried my mom's friend's recipe. I was skeptical at first because it only called for four ingredients, but after trying it, I am now a firm believer. I honestly can't remember the last time my skin looked this good, and it's all natural!" says Hannah Helsabeck, CEO of ESP.
The recipe calls for only four ingredients—all free from harmful chemicals and easy to find at your local natural foods store.
Ingredients:

Organic clementines or oranges
Organic lemon
Non-fat, plain organic yogurt
Pure Jojoba oil (often found at your local natural foods store)
Directions:
1. Peel clementines or oranges and allow the peels to dry out until they are brownish in color. It may take anywhere from 5-10 days for the peels to turn brownish, depending on how thick the skin is.
2. Once the skin has dried out and is brownish in color, finely grind peels in a food processor.
3. Mix equal parts of ground peel with plain yogurt—just enough to create a face mask.
4. Add fresh-squeezed lemon juice into the peel/yogurt mixture.
5. Apply mixture onto face and allow it to dry for 15 to 20 minutes.
6. Wash face with warm water.
7. Place a drop or two of pure Jojoba oil on a cotton ball and apply to face.
8. Repeat treatment twice a day.
"Within days of using the mask and Jojoba oil, my face cleared up…and it's still clear. I couldn't be happier. I'm confident this can help others!" says Hannah.
For questions, please email hello(at)liveESP(dot)com and Hannah will be happy to help.
ESP's website focuses on helping people make an easy and knowledgeable transition to a healthier lifestyle free from harmful chemicals. They sell a variety of chemical-free products ranging from kitchenware to bpa free bottles and eco-friendly lunch gear. ESP also recognizes that avoiding exposure to harmful chemicals doesn't stop at the household product level. What consumers eat and what they put onto their bodies can also contain harmful chemicals. For these reasons, ESP makes a conscious effort to educate others through their blog, Pinterest, and Facebook page on healthier eating habits, chemical industry updates, and natural remedies (like this one for acne).
About Essential Safe Products (ESP)
ESP is dedicated to helping families create healthy and non-toxic lifestyles as well as a healthy environment. Through ESP's website http://www.LiveESP.com, families can learn about toxic chemicals, find tips and tricks on how to avoid exposure to toxins, and shop non-toxic and safe products ranging from cookware and food storage to bath & body products.