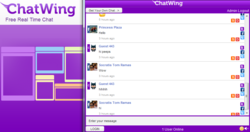 Los Angeles, CA (PRWEB) July 20, 2012
Bligoo bloggers and website creators can now experience an entertaining website chat experience with the help of Chatwing's latest chat widget. This chat tool excels in connecting many people from different parts of the world by providing interaction through websites. With the help of Chatwing, each website serves as a gateway of communication. Chatwing also offers social media integration for all of its users, totally increasing the visibility of most blogs and websites.
Among its features, social media integration can be considered as the highest contributor to Chatwing's overall rank. Through this option, visitors of the Chatwing chat box can now log in with their Facebook or Twitter accounts. Bligoo bloggers can use this option to expand their social networks and widen their audience reach. This is the reason why many online entrepreneurs have relied on Chatwing's free chat box when it comes to marketing purposes.
Installation of the Chatwing chat app can also be accomplished in just seconds and it is compatible to all blogs and websites that have custom design options. After registering his blog's domain name, the user can now proceed to the customization process. Here, he can edit the height, width, color, and title of the free chat widget. This degree of customization has helped a lot of bloggers achieve the right widget style that can entice thousands of visitors. Once everything is complete, the user can now retrieve the HTML code and paste it to his blog's custom design panel.
Chatwing has been successful in its expansion in other prominent blogging communities, such as Livejournal and Wordpress. The development team is always ready to introduce upgrades to the free chatbox in order to maintain its stability as the client influx grows. Bligoo bloggers can expect for more features to come in the following months.
About Chatwing.com
Chatwing.com has developed live chat software for websites and blogs. It caters to different online communities due to its high rate of connectivity. Everyone can create a customizable free shout box feature in 1 minute or less. Users have the ability to customize the size, color, and fonts of the chat product. The ability to chat via social media accounts such as Facebook and Twitter enable Chatwing to offer a personal and unique real-time experience to all sites. Chatwing is very easy to use.