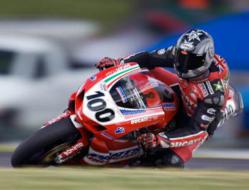 (PRWEB UK) 20 July 2012
Autonet exclusive interview with former British and World Superbike Champion Neil Hodgson
Autonet Insurance, the UK's leading independent van insurance broker has been given the exciting opportunity to interview former British and World Superbike Champion Neil Hodgson.
Neil started to ride at a young age and worked hard to become a Superbike Champion. During his 20 year career Neil competed in many biking series whether it was in the UK or America. Neil who is now retired works alongside Ducati who he has a long standing loyalty towards. We spoke about how it felt becoming a world champion and his plans for the future.
Ian Donaldson Managing Director of Autonet Insurance commented: "Neil has been at the forefront of the biking industry for many years showing his determination, passion and enthusiasm for all things biking. The interview details the relationship he has with Ducati, his plans for the future and a few things you may not know about him."
Read the full interview here.
Notes to editor
Autonet was first established in 1998, now with over 14 years of experience within the insurance industry Autonet has gone from strength to strength turning over and annual excess of £80m.