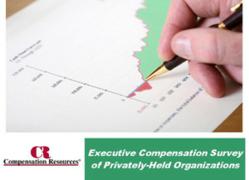 Upper Saddle River, NJ (PRWEB) July 18, 2012
Compensation Resources, Inc. (CRI) has opened participation for the 2012 Executive Compensation Survey of Privately-Held Companies. The purpose of this study is to obtain compensation data of twelve key executive positions in privately-held companies. The dimensions of compensation data reported are: Average, Median, 25th and 75th percentiles, as well as minimum and maximum. The survey will also capture information on short and long-term incentives, the prevalence of various programs and practices relative to executive compensation, various perquisites, supplemental benefits, and agreements. The deadline to participate in this survey is September 14, 2012.
Jobs:
The jobs reported in the survey are as follows:

Chief Executive Officer
Chief Operating Officer
Chief Financial Officer
Chief Legal Officer
Chief Information Officer
Chief Sales Officer
Chief Marketing Officer
Chief Sales / Marketing Officer (Combined)
Head of Long-Range Planning
Chief Human Resources Officer
Head of Manufacturing
Controller
Cost
Survey results will be available to participants in .pdf format at a fee of $110, a modest cost compared to other published compensation surveys. Non-participants may purchase the survey for $375.
For more information or to sign up to participate, please contact Andrew Sellers at (877) 934-0505 x115, ats(at)compensationresources(dot)com, or visit our website at http://www.compensationresources.com.
About Compensation Resources, Inc. (CRI): CRI provides compensation and human resources consulting services to mid- and small-cap public companies, private, family-owned, and closely-held firms, as well as not-for-profit organizations. CRI specializes in executive compensation, sales compensation, pay-for-performance and incentive compensation, performance management programs, and expert witness services.