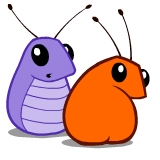 Teaching young children to look after pets is a powerful lesson that helps develop compassion, self-care and nurturing skills.
Burnaby, B.C. (PRWEB) July 19, 2012
Last week, the development team at Cackleberries Entertainment unveiled "Frobit House," its newest compassion-focused addition to its online game world called Oville.
Cackleberries CEO, Eronne Foster, said, "Teaching young children to look after pets is a powerful lesson that helps develop compassion, self-care and nurturing skills. Frobits have been a big hit with children since day one so it makes a lot of sense to use them as pets in the game world."
Frobits are insect-like creatures that appear randomly throughout the online game world. Players with premium memberships can now catch Frobits and take them back to their very own Frobit House, a mushroom-shaped pet house located in the front yard of their avatar's "Cackpal" house.
After chasing Frobits in Frobit Meadow or making them fly in the ABC Frobit Fling Game, players can catch them and bring them back to Frobit House one at a time to care for them. In Frobit House, players can wash, brush, feed, exercise, play with, and even educate their Frobits by reading Frobit-themed books to them.
The company is already making Frobit toys. The small, soft toys have a front pouch that allows them to be rolled up into a kick bug (a Hacky Sack® type toy) and kicked around or tossed like bean bags so that children will get up and play with them. The Frobit toy was intentionally designed to fulfill the company's mandate of encouraging children to get up and move after being on the computer for any length of time.
Foster is very pleased to announce that a special Variety-branded Frobit toy will be coming out this fall. Cackleberries has recently partnered with Variety International, the Children's Charity to promote Variety's message and raise awareness about special needs around the globe. The Variety Frobit will be white with the Variety heart on its front and will be part of a winter fundraising campaign for the children's charity.
As well, Cackleberries will be sending a large shipment of Frobits to Haiti this summer through a Canadian charity. One of the members of Cackleberries marketing team, Colin Wiebe, recently returned from Haiti with stories of children having no toys to play with. "They play soccer with empty water bottles," said Wiebe. The company hopes the Frobit toys will brighten up playtime for those children in Haiti.
To purchase a full membership to Oville with access to your child's own Frobit House, please go to http://www.cackleberries.com and click on the red "full membership" button. To keep up with Oville's latest educational games, books, music, and cartoons, follow Cackleberries' Facebook page.
Cackleberries is a children's edutainment (entertainment and education) company offering a website, animation, toys, games, music and more. Most importantly Cackleberries introduces young children, three to seven, to online education with a dedication to keeping them safe. Cackleberries protects children from the internet with the latest technology, provides family-friendly content, and never advertises to children. The living virtual world of Oville is a place for children to learn and play in a guaranteed safe environment.