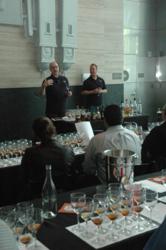 Rum For All's core mission is to raise the understanding and the public profile of Rum by making the case that Rum is, in fact, as noble and grand as Scotch Whisky, Bourbon, Cognac and Armagnac."
New York, NY (PRWEB) July 18, 2012
Rum For All (RFA) is the groundbreaking membership-based, educational program, established in 2011 by Spirit Journal, Inc., that has reopened the discussion about Rum in North America. RFA is directed by award-winning journalist/author/educator F. Paul Pacult (Spirit Journal, Inc; Ultimate Beverage Challenge LLC; Beverage Alcohol Resource LLC) and journalist/consultant Sean Ludford (BevX.com),
Pacult and Ludford have thus far taken the case of Rum's pedigree, history and world-class status directly to bartenders, retailers and media in Chicago (October, 2011), Vancouver (Tales of the Cocktail, February 2012) , New York (March 27) and San Francisco (June 27). Ahead lies major Rum For All trade and media events in New Orleans at Tales of the Cocktail on July 27, Boston at the Boston Cocktail Summit on October 5 and Dallas-Ft Worth on October 16.
Rum For All for consumers will take place in New York at Astor Center on November 10 with both a formal sit-down tasting/seminar and then a cocktail party at which Rum cocktails for the holidays will be demonstrated.
The fifteen Rum For All Founding Members 2012 are:

10 Cane, Trinidad
Appleton Estate, Jamaica
Bacardi, Puerto Rico
Banks Rums, West Indies
Brugal, Dominican Republic
Cruzan, Virgin Islands
Denizen, Trinidad & Jamaica
Depaz Blue Cane, Martinique
Diplomatico, Venezuela
Don Q, Puerto Rico
Flor de Caña, Nicaragua
Mount Gay, Barbados
Ron Abuelo, Panama
Shellback, Barbados
Zacapa Rum, Guatemala
For more information on membership for 2013, please call 845-895-1922 or email mail(at)spiritjournal(dot)com.
For downloadable images from the recent Rum For All seminar in San Francisco please go to http://www.rumforall.com/gallery/sf_12/index.html
About Spirit Journal, Inc. Founded in 1991 by F. Paul Pacult and Sue Woodley, Spirit Journal, Inc. is a leading publisher, events producer and consulting firm to the beverage industry. For more information, please email mail(at)spiritjournal(dot)com or call 845-895-8910.
FOR MEDIA INQUIRIES, contact Manuela Savona at Savona Communications at 917-969-1275, manuela(at)savonacommunications(dot)com