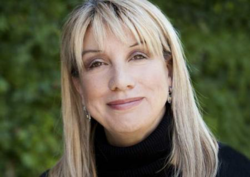 Boston, MA (PRWEB) July 18, 2012
Rebecca Costa -- a leading sociobiologist and host of the internationally syndicated radio program "The Costa Report" -- has joined the Boston-based American Program Bureau speakers bureau. In her first book, 'The Watchman's Rattle: Thinking Our Way Out of Extinction,' as well as in her keynote speeches, Costa offers a revolutionary explanation for global gridlock as well as powerful takeaways on how organizations can become fast adapters in fast-changing, high failure rate environments. According to Costa, "The complexity we must now master and navigate has caused every nation, corporation and expert to become gridlocked -- unable to solve their most dangerous problems. Thankfully, we have models for succeeding in high-failure rate environments -- tactics which facilitate fast adaptation."
Costa, who is a former CEO and founder of one of the largest marketing firms in Silicon Valley, will be teaching audiences how to prevail over the deluge of data, options and complexity they encounter every day. She offers custom lectures and workshops aimed at the financial, healthcare, manufacturing and technology industries as well as general business and nonprofits.
Organizations who are interested in bringing keynote speaker Rebecca Costa to their next event should contact the American Program Bureau at 800-225-4575.
About American Program Bureau (APB):
In business since 1965, the American Program Bureau represents a roster of high-profile speakers from entertainers and politicians to thought leaders and academics. Learn more about APB at apbspeakers.com or find APB on Twitter @apbspeakers.
About "The Costa Report"™:
"The Costa Report" is politically neutral weekly news radio program hosted by American sociobiologist, author and public speaker Rebecca D. Costa. The program was launched in 2010 in concert with the release of Costa's bestselling book, The Watchman's Rattle: Thinking Our Way Our of Extinction. "The Costa Report" consists of a one-hour interview with a renowned newsmaker, followed by a second hour of listener telephone calls. Guests on "The Costa Report" have included Ron Paul, John Bolton, Jared Diamond, Alan Dershowitz, Jennifer Granholm, Michael Dukakis, Paul Ehrlich, Pat Buchanan and others. "The Costa Report" currently boasts over 2 million listeners and is syndicated on the Business TalkRadio Network. For more information visit http://www.rebeccacosta.com.